Sincerely Yours: Reflections from the EDM + A Special Appeal
In June, AllianceQ hosted Pride worship: Transforming the Story.
In November, we'll host a Transgender Day of Remembrance worship service: Remembering Our Stories.
Always, we emphasize your place and your part in God's love story.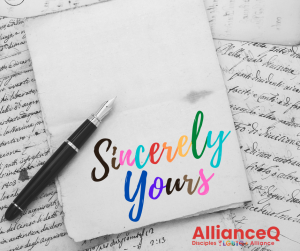 Sincerely Yours is a one-month special appeal to collect and share stories of welcome and increase donations supporting our ministry to widen the welcome. What story are we writing? What love letters can we distribute far and wide?
I received a love letter recently. Well, it was a thank you note; one that affirmed the work of AllianceQ and who I am… The note accompanied a custom made rainbow stole. Truly sincere.
AllianceQ doesn't send much direct mail; we're not sending literal love letters. We partner with justice ministries to be a movement for wholeness. We advocate alongside LGBTQ+ organizations to urge nondiscrimination and address queer issues.
Sincerely Yours invites each of us to be authentic, living out(loud) the fullness of our identity.
Sincerely Yours calls each of us to affirm the uniqueness and belovedness of every body.
Sincerely Yours reminds us that we belong to God and we belong to each other.
You are invited to:
This month — and every month, always in all ways — be sincerely you. And sincerely affirm every body. You are God's beloved, part of God's expansive love story.
Sincerely Yours,
Melissa
P.S. October is Minister Appreciation Month. Send your pastor a "love letter;" extend grace and thanksgiving.