News from AllianceQ: June 2021
Open & Affirming anniversaries in June
During June, 25 ministries celebrate an Open & Affirming anniversary!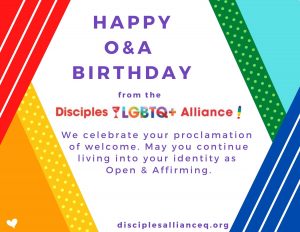 Happy O&A birthday to these ministries with an anniversary of living out a wide, radical welcome of all:
Central Christian Church (Terre Haute, IN) 6/1/2006
Queen Anne Christian Church (Seattle, WA) 6/1/2013
Journey of Faith Christian Church (Ann Arbor, MI) 6/2/1991
United Christian Church (Austin, TX) 6/10/2007
First Christian Church (Gulfport, MS) 6/12/2019
The Current/First Christian Church (Naples, FL) 6/13/2019
Riverside Christian Church (Wichita, KS) 6/14/2018
First Christian Church (Fullerton, CA) 6/15/2017
Missiongathering Christian Church (San Diego, CA) 6/16/2017
Missiongathering (Charlotte, NC) 6/16/2017
New Covenant Christian Church (Nashville, TN) 6/17/2018
Jerusalem Christian Church (Lafayette, LA) 6/22/2015
First Christian Church of Iowa City (Coralville, IA) 6/22/2020
Forest Park Christian Church (Tulsa, OK) 6/23/2015
Mission Hills Christian Church (Los Angeles, CA) 6/23/2017
First Christian Church (Fort Smith, AR) 6/23/2019
First Christian Church (Vallejo, CA) 6/24/1999
First Christian Church (Peoria, IL) 6/24/2019
First Christian Church (Kent, OH) 6/26/2017
University Christian Church (Seattle, WA) 6/27/1993
Phillips Theological Seminary (Tulsa, OK) 6/28/2017
Illinois Disciples Foundation 6/29/1996
United Christian Church (Levittown, PA) 6/4/1995
Just Love (Houston, TX) 6/5/2015
United Campus Ministry Ohio University (Athens) 6/7/1995
A special blessing upon Rolling Oaks Christian Church (San Antonio, TX).
With an O&A anniversary date of June 23, we honor the witness of the church through its ministry and thank Rolling Oaks for a recent financial gift to AllianceQ. Rolling Oaks held its closing worship service on April 4, 2021, Easter Sunday. Pastor Sara Nave Fisher wrote, "
We know that the God of the Resurrection is planting seeds of hope in new ways, and we look forward — as a group, and as individuals — to discovering what is next, and to partnering with God wherever we can."
If our records are incorrect or if your church is not listed, please let us know. If you want information about and support for the welcoming journey, contact Melissa@disciplesallianceq.org.