October is LGBT history month
An observance of the history of the gay rights and related civil rights movements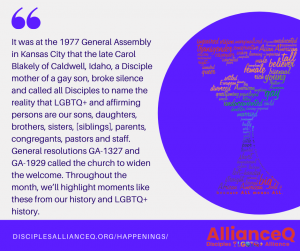 It was at the 1977 General Assembly in Kansas City that the late Carol Blakely of Caldwell, Idaho, a Disciple mother of a gay son, broke silence and called all Disciples to name the reality that LGBTQ+ and affirming persons are our sons, daughters, brothers, sisters, [siblings], parents, congregants, pastors and staff. General resolutions GA-1327 and GA-1929 called the church to widen the welcome. Throughout the month, we'll highlight moments like these from our history and LGBTQ+ history.
Have you or do you know someone who has done work related to LGBTQ+ history with the Christian Church (Disciples of Christ)? Send us your papers, compilations or connections.
Why do we celebrate Pride Month in June and LGBT History Month in October?
from UCF News by Jenna Marina Lee
"LGBT History Month was created in 1994 by Rodney Wilson, a high school history teacher in Missouri. In 1995, a resolution passed by the General Assembly of the National Education Association included LGBT History Month within a list of commemorative months. October was selected to coincide with National Coming Out Day (Oct. 11), which was already established, and the anniversary of the first march on Washington for gay and lesbian rights in 1979…
The month now also includes Spirit Day on Oct. 21, on which people around the country wear purple in support of LGBT youth; Ally Week, a week in which allies against LGBT bullying are celebrated; and the anniversary of 21-year-old Matthew Shepard's murder on Oct. 12, 1998, which led to the Matthew Shepard and James Byrd Jr. Hate Crimes Prevention Act in 2009…
The month is meant to highlight and celebrate the history and achievements of lesbian, gay, bisexual and transgender people. According to GLAAD, 'during the early years, the celebration was largely marked by a call to action and commemoration. But since then, LGBT History Month has blossomed into a national coordinated effort to highlight exemplary role models from the LGBT community.'"
LGBThistorymonth.com celebrates the achievements of lesbian, gay, bisexual and transgender icons:
The LGBTQ Religious Archives Network (LGBTQ-RAN) is an innovative venture in preserving history and encouraging scholarly study of lesbian, gay, bisexual, transgender and queer (LGBTQ) religious movements around the world. LGBTQ-RAN is celebrating its 20th anniversary this fall, marking the milestone with a Queering Our Roots campaign honoring five elders of LGBTQ+ religious movements in the U.S. as well as highlighting the rich history that LGBTQ-RAN has gathered over these years.  Info on LGBTQ-RAN events can be found here.
Some AllianceQ History
Celebrating the Journey: 20 GLAD Years and Counting, 1979-1999
Rev. Dan Adolphson reflects on GLAD's presence at the 2015 General Assembly in Columbus, OH, and highlights ministry accomplishments (August 2015)
The Third Generation: A challenge for us to remember our history, maintain our unity, and work for justice for all our neighbors from Rev. Dr. Michael Kinnamon (May 2017)
The Alliance has a new name! (June 2017)
Video Tribute to Carol Blakely (September 2017)
Transition: Mark Johnston, as he steps down from the position of Executive Director of AllianceQ's Open & Affirming Ministry program, reflects on our past and the future (October 2019)
Disciples LGBTQ+ Alliance welcomes Melissa Guthrie Loy as new Executive Director + Minister (October 2019)
No one excluded from God's love: A joint reflection of faith from General Minister and President Terri Hord Owens and AllianceQ Executive Director and Minister Melissa Guthrie Loy (January 2020)
Embodying Our Beliefs: 2020 Annual Update (November 2020)
Related News + Organizations
The Census Bureau's first ever data on LGBTQ+ people
GLAAD honored LGBTQ leaders for Women's History Month this past March
The GLBT Historical Society collects, preserves, exhibits and makes accessible to the public materials and knowledge to support and promote understanding of LGBTQ history, culture and arts in all their diversity.
American LGBTQ+ Museum coming to N.Y.C.'s oldest museum as part of expansion, slated to open in 2024
10 Incredible LGBT Museums & Archives That Are Preserving Our History
Sustain the ministry of AllianceQ
As we honor our history, we invite you to make a financial contribution to sustain our ministry — and propel us forward. Give here or become a member here.
Make a gift to the Sincerely Yours Special Appeal.