Honoring the service + leadership of Bob Shaw
For his faithful commitment to setting a place at the table for all, we celebrate the service and leadership of Robert "Bob" Shaw.
Give to AllianceQ – the Disciples LGBTQ+ Alliance in honor of Bob Shaw.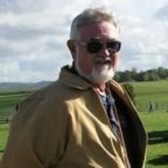 From Melissa Guthrie Loy: "One of the first Council Members I met in my discernment process, Bob Shaw modeled transparency and truth-telling. Bob extended a warm welcome to me and to my family. Meeting on a shuttle bus at General Assembly, Bob and his wife Susan McNeely embraced the noise and busyness of my toddler. They didn't blink when I introduced my wife. From the shuttle bus ride to a multi-day conference and then a homestay two years later, I've found authenticity and compassion in Bob Shaw. His longstanding engagement spans our birth as GLAD, the Gay, Lesbian, and Affirming Disciples Alliance, and ongoing transformation as AllianceQ. Offering much wisdom, Bob names his lived reality as a straight, white male; also listening to his siblings.
Inception. Expansion. I know Bob has been instrumental in sustaining the ministry of AllianceQ and suspect he will continue to support the Alliance with his time, talents and treasures. He will stir up some holy trouble in his home church and across the church so that we become more just and inclusive.
Bob, thank you for giving this blonde girl a chance; thank you for standing alongside me and supporting me in my growth as a leader with AllianceQ. Thank you for delicious meals at the table at your home; thank you for living a life that seeks to welcome all to the Table."
Concluding his service as a Council Member, we invite you to give to AllianceQ – the Disciples LGBTQ+ Alliance in honor of Bob. Thank you for joining us in the call to set a place at the table for persons of all gender expressions and sexual identities.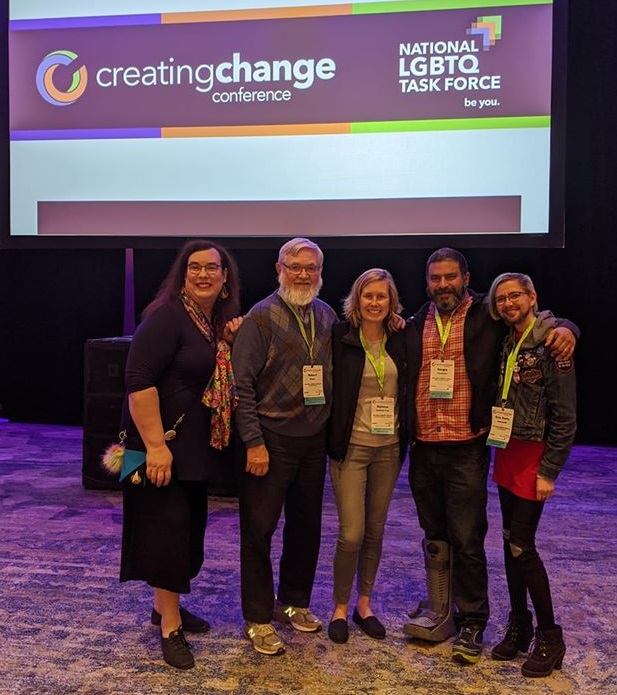 How and Why I Came to be Part of AllianceQ
Bob writes:
I am 73 years old and grew up in Louisville, Ky. At the time and place of my youth and early adulthood, issues related to homosexuality were simply not discussed. I grew up quite naïve on the subject. Any gay or lesbian people in my life were so deeply in the closet that to this day I do not know who they were. I admit that I found some "queer" jokes funny, but they also made me a bit uncomfortable. It just didn't seem right. During seminary years (1969-1973 at Christian Theological Seminary in Indianapolis) the subject became more important. We talked about civil rights; we talked about the liberating power of the Gospel. We talked about God's love and Jesus' sacrifice for all people no matter who they were. Most of my "liberal" classmates and I were willing to bear witness to our belief that homosexual people (we did not say "gay" and "lesbian" comfortably 50 years ago) were included among those whom Jesus loved and for whom he died. Even so, at that point in my journey these conversations were pretty much theological and academic exercises. Sometime after seminary (1976 I believe, but I can't remember exactly) I learned that Richard, one of my close friends in seminary had come out of the closet as homosexual. He had lived in distress for years, trying to convince himself he was not gay, then trying to change himself; and finally concealing his gayness. In sharing his own soul searching, he confided that he had endured pain for many years, and had caused pain to others as well, particularly his wife. Dick was a Christian Church (Disciples of Christ) minister who worked for our denominational publishing house in St. Louis. Upon coming out, he was fired on the spot. I spent several long-distance hours on the phone with him and with other trusted friends as I tried to be loving and helpful to him, and at the same time sort out my own feelings. Suddenly it wasn't theoretical anymore. All of this stuff, from the "queer" jokes of my youth to the discussions in seminary, now had a name and face on it! It just wasn't the same. Here was someone I knew and knew well, even loved. I understood his values. I deeply respected his intellect and spiritual depth. After all these years I still consider Dick one of the most critical theological thinkers I have known. He had a sensitivity in studying and interpreting Scripture that allowed him to see things other people don't see. The next time I saw Dick was at the General Assembly of the Christian Church the following summer. He saw me first in a mob of people, yelled loudly, and ran across the room to grab me. We hugged a long time. I admit that I had wondered just a bit if I would be OK with really warm physical contact, but I forgot about it in that moment and never really thought about it again. It felt right and comfortable. Dick was a good friend, a dedicated Christian, and a highly qualified ordained minister who was treated badly and was deeply hurt by my church. For me, that week at the assembly was the right time to become not only involved, but visible. There were major resolutions at the assembly that year relating to inclusiveness. I became a bit more high-profile than suits my basic personality, and even spoke on the floor three times with some 5,000 people in the hall. Two years later (1979) our assembly was in St. Louis, and the same issues were hotly debated again. One evening after the sessions, Dick, who still lived in St. Louis, invited some 25 to 30 people (some gay, some straight, all supportive) to his apartment to talk and just be together. There was much talk of anger, hurt, frustration, and faint hope. At some point we started asking the question whether there would be a place in our denomination for some kind of advocacy group supporting gay and lesbian people and the issues important to them. Several years later the GLAD (gay, lesbian, and affirming Disciples) Alliance (AllianceQ today) was established. Today it is a recognized and influential part of the Christian Church (Disciples of Christ). I am proud to be a charter member. In the fall of 1999 at our General Assembly, GLAD celebrated its 20th birthday. It seems that that meeting in Dick's apartment in 1979 is considered the birthday. At the GLAD banquet that year they asked those who had been present at that first meeting to stand and be recognized. When I stood up, my daughter (who still has not heard all my stories!) looked up at me with a surprised expression I want to remember forever. Her comment: "I didn't know you used to be interesting!"
Acknowledgements
Send your stories and words of gratitude to alliance@disciplesallianceq.org.
From Luther Young: "It has been an absolute pleasure working with Bob. His sage advice and calming presence have been crucial for the Council. I will miss his storytelling that, in true Bob fashion, typically had valuable lessons embedded within them. Thanks so much for your service and your dedication to the Alliance. Cheers to the next steps of the journey!"
From Alysha Laperche: "Bob brought a wisdom and thoughtfulness to the council that was instrumental in looking forward with vision that was also informed by the past. I am grateful for his dedication to this work, and I know it will continue even now that his tenure on the council has come to an end."
From Steven Blinder: "I appreciated how welcoming Bob was when I became a member of the council. His encouragement, reflective listening, and his keen sense of, and ability to share and honor, the history of AllianceQ will be sorely missed at future council meetings. Bob's commitment for justice and his work to ensure that 'all means all' drove his contributions to the council and is evident in his life's work. He is truly a person who the Disciples LGBTQ+ community recognizes as an esteemed ally!"
From Sergio Centeno: "Bob has been always highly respectful with me even on issues we think differently, and I am thankful for that. Always supportive and proactive."
From nicki arnold swindle: "Bob went above and beyond to not only make me feel welcome on the Council, but to meet my pastoral care needs at a time when I was without a pastor myself. He made me feel like family and touched my heart when he gave me a special gift to honor my new ministry as a CPE resident in the San Diego VA-DoD CPE Program. Bob truly has a pastor's heart, which has been honed over the decades he has been in ministry, and I know he cares about LGBTQ+ inclusion issues. I'm forever grateful for knowing him and having this opportunity to work with him on the AllianceQ Council.
From RJ Robles: "Bob, Thank you for your commitment to this ministry throughout the years. Wishing you all the best and continued happiness."
From Dan Adolphson: "I was deeply grateful for the leadership and presence of Bob Shaw on the Council. Bob not only brought a wide background of being a strong ally for the LGBTQ+ community, especially in youth circles, but he also brought a calming, grounding presence to our work. He deeply understood the history of LGBTQ+ issues in the Christian Church (Disciples of Christ) and always brought unique insight at the moments we needed it most. His pastoral presence and deep love for all of God's children touched me, and touched our work. We are better and blessed because of Bob."
From Tyler Heston: "I had the gift of serving with Bob for a majority of my time on the Disciples LGBTQ+ Alliance Council and am so thankful for our time together and for our friendship! From long days and fun nights at council retreats to hours spent at General Assembly booths to our monthly Zoom meetings, I saw time and time again Bob's dedication to the mission and vision of the Alliance and how it has led him to work for a more just & inclusive church for years, within and outside of our shared work on the council. The community and ministry of the Alliance has been watered in its growth by Bob's gifts and support. Cheers to you, Bob!"
Rev. Robert J. Shaw
Rev. Robert J. Shaw is a retired minister with dual standing in the Indiana Region of the Christian Church (Disciples of Christ) and the Indiana-Kentucky Conference of the United Church of Christ. He is currently active in DisciplesNet Church a new online church of the Christian Church in Indiana, serves the Indiana Region as regional elder, and is a member of the church board in his own local congregation, Tapestry Christian Church in Indianapolis. He and his wife, Susan, are active with the Congo Partnership Task Force for the Indiana Region's partnership with the Mbandaka District of the Disciples of Christ of Congo.
His M.Div. degree is from Christian Theological Seminary in Indianapolis (1973) and has done doctoral work at both Christian Theological Seminary and Lexington Theological Seminary in Kentucky. He has served as president of the Alumni Board of Christian Theological Seminary and served three years on the board of trustees.
The last twenty years of his career in ministry has been as an interim minister, serving 19 congregations since 1990. He has been married to Susan McNeely since 1969. They have one daughter, Kristen McNeely-Shaw, who lives in the Boston, Massachusetts area with her husband and daughter Ada, Bob and Susan's only grandchild.
He has been an advocate for inclusiveness in the church for more than 40 years, served as pastor of one ONA congregation in the UCC, and been a vocal supporter of O&A issues in his current congregation. He has served in volunteer capacity for many years with the Damien Center in Indianapolis, a service organization working with HIV/Aids patients in areas of prevention, case management, housing and job placement, food pantry, etc. He has been Santa at their client Christmas party for the last five years. He also served as a volunteer for Indiana Youth Group (serving LGBT+ teenagers in Indianapolis area) for four years.
Give to AllianceQ – the Disciples LGBTQ+ Alliance in honor of Bob Shaw.