Non-Binary Conversations

Update: Find the recording of "Non-Binary Conversations" here.
Resources here! Many thanks to Jennifer Richardson with Open Table Christian Church for compiling the many resources shared throughout the conversation.
– Some common education regarding non-binary terms and understanding
– Understanding how non-binary individuals may experience Christianity and the church
– How a church can be supportive
– Q&A
Speakers
Alysha Laperche (they/them) and Eli Burton (he/they)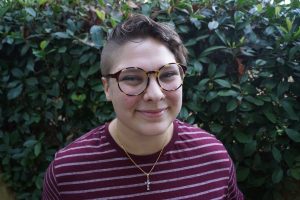 Alysha Laperche (they/them/theirs) is a seminary student and coffee enthusiast. Alysha grew up in the Tampa area of Florida and was first introduced to the Christian Church (Disciples of Christ) in late elementary school when their family attended Brandon Christian Church. A few years later, Alysha's father accepted a pastoral call from a Cumberland Presbyterian church and it was through Alysha's engagement with that congregation that they discerned their call to ministry at a young age. Alysha holds a bachelor's degree in Social Work, and it was the introduction to progressive values through those studies that led Alysha to an affirming seminary community. Alysha's ordination process is with the Christian Church (Disciples of Christ) in the Northern California-Nevada Region, where their sponsoring congregation is Lafayette Christian Church. They are now completing their Master's program in Theology at Phillips Theological Seminary. Through leadership and partnership with organizations like the Disciples AllianceQ, Alysha is excited to continue following their call to embody the inclusive love of God revealed in Jesus Christ, particularly through working to actualize the vision of setting a place at the table for people of all sexual orientations and gender identities.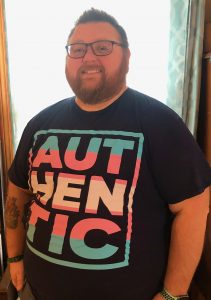 Elijah Burton (he/they) is a self-identified queer transman, who knows the struggle of finding an accepting and affirming church home. Elijah has dabbled in a variety of interests over the years, ranging from theatre to soccer. They are currently a MDiv student at Phillips Theological Seminary, and he is currently helping with pulpit supply in the Christian Church (Disciples of Christ) Michigan Region.
Eli and family are members at First Christian Church of Lansing. Eli and his wife Jessica are raising two kids, Lu who is non-binary and Alexis. Eli and Jess are also foster parents, currently to 4 siblings.
At their home church, Eli serves as an Elder, sings in the choir, plays ukulele in the praise band, and is a member of the General Board. They also serve as Treasurer for the AllianceQ Council, volunteer as a Girl Scout leader, and volunteer doing data input for a local cat rescue.
Register here: https://tinyurl.com/nonbinaryconvo
For more information, contact info@opentablechristianchurch.org