Thank you, Steve Martz! Welcome, Rick & Reuben!
While they are quite familiar with our ministry, AllianceQ is excited to formally introduce Rick and Rueben Sancken-Marx as Assistant Treasurers.
Longtime members with AllianceQ, Rick and Reuben are leaders in the Indiana region. We welcome their time and skills in a new capacity! Their volunteer positions are integral to our ongoing ministry; the Assistant Treasurers manage financial gifts mailed to the organization's P.O. Box.
Deep gratitude for the faithful service of Steve Martz
Rick and Rueben follow the reliable leadership of Steve Martz who has served the Alliance for 30+ years. Formal tribute to Steve Martz is slated for this fall.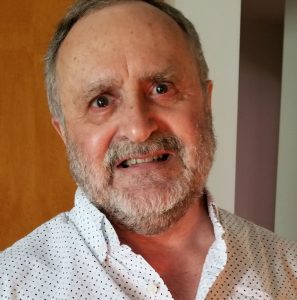 Thank you, Steve, for faithful service to the Alliance. We're grateful for the many ways you've contributed to the life of this organization and the fulfillment of our mission to set a place at the table for all. While you've been retired, we hope you enjoy your retirement now that you have (a little) less work from us. Know that we are not parting ways; you're signed up for several volunteer activities in the future!
Welcome, Rick and Reuben!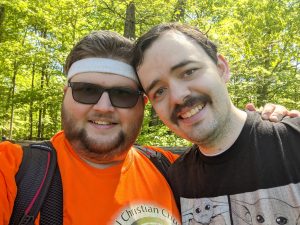 Reuben (pictured right) is a member of Central Christian Church in Indianapolis and works as a hospital chaplain. His favorite summertime activities are walking with Rick and enjoying the beauty of nature.
"Disciples LGBTQ+ Alliance is important as a ministry as it spreads Jesus' empowering love and inclusion of our LGBTQ+ siblings! We help keep the church accountable to its call for full participation at the table. I'm serving as an assistant treasurer to help Disciples LGBTQ+ Alliance continue this important ministry of advocacy and support."
Rick (pictured left) is a member of Central Christian Church in Indianapolis and works as an IT business software consultant. In addition to spending time with Reuben, his favorite summertime treat is a Dairy Queen Oreo Blizzard.
"Having grown up in a non-affirming tradition, I understand the importance of having community that is both open and affirming. Too often we get "open" without "affirming" – the work AllianceQ leads is critical to showing LGBTQ+ folks that they are beloved children of God.
AllianceQ cannot serve the church without a smooth behind-the-scenes-process, so we're delighted to help the mission continue following Steve Martz's faithful commitment to the role for 20+ years."
Honoring Steve and Welcoming Rick and Reuben
We invite special contributions to honor Steve and welcome Rick and Reuben. Perhaps you will make a gift to sustain and deepen our ministry? You can give online here. You can mail a gift to P.O. Box 44400, Indianapolis, IN 46244.
Your mailed gifts will keep our assistant treasurers busy! Know that every gift of every kind, dollars, time and talents, make this ministry possible. Every body matters.