Request Ms. Penny Cost's Art and Activism Sermon Manuscript
Isaac Simmons (they/them) writes, "It was an honor to preach at the banquet dinner of the Disciples LGBTQ+ Alliance during the General Assembly of the Christian Church (Disciples of Christ). Y'all are doing beautiful Kin-dom shaking ministry."
Isaac, Ms. Penny, THANK YOU for sharing your art with us and for inviting us to embrace and create art.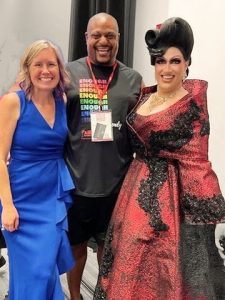 From Ms. Penny's July 29, 2023, message:
"…if you do not believe yourself to be an artistic person, do not be dismayed. For art exists in many forms. Yes, art is singing and painting, but it is also organizing marches and writing representatives. Yes, art is dancing and fluting, but it is also post protest chaplaincy and medical advocacy for the rights of those with uteruses. Yes, art is in museums, but it is also in Ferguson and Selma, in Stonewall and Laramie.
The most powerful art you will ever find is in our tent cities, in our overrun hospitals, in the hands of the youth, in the minds of the discounted. For the most powerful art that you can ever produce, is that art which comes from the intersection of the world's greatest yearning and the soul's greatest longing.
And, let me be clear: no one… no one knows this intersection better than those who have been marginalized by the corrupt empire of supremacy. We must listen to those in the margins and we must dismantle the systems that seek to keep them there."
With unique reflections on art and activism and powerful calls to action, we want to share with you the text of Ms. Penny Cost's sermon. We also want to honor Ms. Penny Cost's creative work and support their ongoing ministry.
After completing the request form, please make a donation for this resource. All donations will be shared between Ms. Penny Cost and AllianceQ. How generous of Ms. Penny Cost to share the sermon manuscript and to share donations between our ministries.