News from AllianceQ: May 2022
May Open & Affirming anniversaries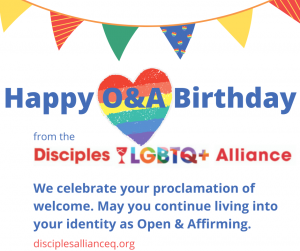 Happy O&A birthday to these ministries with a May anniversary:
First Christian Church (Disciples of Christ)-Watsonville (CA) 5/1/2010
Monte Vista Christian Church (Disciples of Christ) (Albuquerque, NM) 5/1/2014
First Christian Church, Falls Church (VA) 5/3/2017
First Christian Church of St. Paul (MN) 5/4/2015
First Christian Church Findlay Ohio 5/8/2017
United Campus Ministry at MSUB – UCM (Billings, MT) 5/10/2019
Evergreen Christian Church (CO) 5/13/2019
First Christian Church Katy (Disciples of Christ) (TX) 5/15/2017
Jacksonville Campus Ministry (FL) 5/116/2019
Park Avenue Christian Church (New York, NY) 5/17/1992
Central Woodward Christian Church (Troy, MI) 5/17/2016
Missiongathering Issaquah (WA) 5/20/2018
First Christian Church (Disciples of Christ) Bartlesville OK 5/22/2018
Harbor Christian Church (Newport Beach, CA) 5/25/2016
Community of Reconciliation Church (Pittsburgh, PA) 5/26/2016
Firestone Park Christian Church (Akron, OH) 5/27/2014
We celebrate your proclamation of welcome. May you continue living into your identity as open & affirming. Lift up your anniversary in worship; collect a special offering to support Open & Affirming Ministry. Examine your practices: how are you living into your O&A identity?
If you want information about and support for the welcoming journey,
contact us
. If our records are incorrect or if your church is not listed, please let us know.