News from AllianceQ: April 2021
Becoming aware of gender diversity
AllianceQ celebrates and seeks to live into the church's 2019 resolution GA-1929 "An Invitation to Education for Welcoming and Receiving the Gifts of Transgender and Gender-Diverse People." [1]
Transgender Day of Visibility was March 31. An annual day of awareness celebrated around the world, the day is dedicated to celebrating the accomplishments of transgender and gender nonconforming people while raising awareness of the work that still needs to be done to achieve trans justice. [2] We know visibility alone is not enough; we need education and action.
What does "transgender" mean, let alone "gender non conforming" or "genderfluid"? Held March 30, AllianceQ offered "Transgender 101: The 'T' in Transgender." You can request the workshop recording here.
From our General Assembly resolution: "Scripture opens possibilities for new understandings that become recognizable in the evolving life of the church, such as:
• God's own gender-full Self is revealed to us in Scripture as a kind Father [3] , a fierce Mother 4] , and a wide variety of other metaphors across the range of gender identities and expressions; and
• God is further known to us as the male-bodied Jesus [5] embodying God's feminine Wisdom [6] ; and as the non-gendered Spirit [7] that inhabits human beings irrespective of gender [8] ; and
• Baptism into Christ clothes all people in Christ uniformly, negating ethnic, economic, and gender distinctions among believers such that "there is no longer Jew or Greek, no longer slave or free, no longer male and female" such that we are all "one in Christ Jesus" [9] ; and
• Transgender and gender-diverse people contribute rich understanding of God's transformative power for followers of Christ, all of whom are understood to have undergone transformation of our core identity [10] , a concept that is enriched by relationships with transgender and gender-diverse people who have experienced transformation in their core identity.
If you're looking for affirming resources about gender-expansive people and Christianity, we suggest checking out these resources from Transmission Ministry Collective.
You'll find more resources below but we invite you to join with us in our work for building a just and inclusive church and world.

Our partners at Reconciling Works created a resource to help us speak out against the anti-trans bills in over 30 states.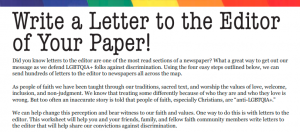 Adapt their suggestions and use your voice. This worksheet will help you write letters to the editor that will help share our convictions against discrimination.
"Across the country, state legislatures have introduced bills that would ban transgender youth from participating in K-12 school sports, and in some cases in college as well. This year alone, at least 30 states have introduced this type of legislation." –"Mapping Bans on Transgender Youth Sports Participation"

"Transgender kids want the opportunity to play sports for the same reasons other kids do: to be a part of a team where they feel like they belong." –"Megan Rapinoe: Bills to ban transgender kids from sports try to solve a problem that doesn't exist," Washington Post

"This Trans Day of Visibility, we must be active in the fight against anti-trans legislation proliferating across the country, starting with Arkansas, Alabama, and South Dakota." -"Visibility Alone Will Not Keep Transgender Youth Safe," The Nation
Our friends with the Open and Affirming Coalition of the United Church of Christ created this worship video:
TDOV 27.mp4 from Ona Ucc on Vimeo.
Thank you, Kimi Floyd Reisch and the Coalition.
In the news
"Rachel Levine Makes History As 1st Openly Trans Federal Official Confirmed By Senate," NPR
Additional resources
AllianceQ resources with a significant focus on transgender people.
The National Center for Transgender Equality is a secular group that advocates for legal protection for transgender people.
PLFAG is a secular organization that provides resources to parents, families, and allies of LGBTQ people, including in-person (or on-Zoom) chapters for peer support and community throughout the country: https://pflag.org/find-a-chapter.
Visit GLAAD's Transgender FAQ webpage.
Find a gender terminology discussion guide, pronouns resource and more from GLSEN.
Please note portions of this article were first published in March 2020.
[1] GA-1929 "AN INVITATION TO EDUCATION FOR WELCOMING AND RECEIVING THE GIFTS OF TRANSGENDER AND GENDER-DIVERSE PEOPLE"
[2] "Transgender Day of Visibility," GLSEN
[3] Psalm 68:5; Psalm 103:13; Isaiah 64:8; Jeremiah 31:9; Matthew 5:45; Matthew 6:9; Romans 8:15; 1 Corinthians 8:6
[4] Deuteronomy 32:11-12, 18; Job 38:28-30; Psalm 131:2; Isaiah 49:15-16; Isaiah 42:14; Isaiah 66:13; Hosea 13:8
[5] Luke 2:7
[6] Proverbs 8:1-3, 22-31
[7] In Hebrew ruach is a feminine noun, grammatically speaking; while pneuma in Koine Greek is neuter.
[8] Joel 2:28-29; Luke 1:41, 67; Acts 2:17-18; Acts 4:31; 1 Corinthians 12:4-7, 11; 1 Thessalonians 1:2-7
[9] Galatians 3:27-28
[10] Romans 12:2; 2 Corinthians 3:18; Galatians 2:20