News from AllianceQ: April 2021
Ready for a while: South Broadway Christian Church is Open & Affirming!
"The South Broadway church has been a welcoming community for decades. It was such a gift to finally make the jump from welcoming to affirming! We continue to grow and to learn and help others do the same. We are SO excited to finally be a part of the Disciples LGBTQ+ Alliance!"

Pastor Dustin Adkins
With joy, we celebrate the ministry of South Broadway Christian Church (SBCC) in Denver, Colorado; we welcome SBCC to the movement of Open & Affirming ministries!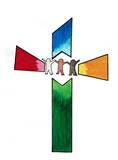 Pastor Adkins shares that he is openly gay and explains, "We worked for two years in discernment on our Open & Affirming process, in studies and preaching and Q&A lunches after church, finally realizing that we had been ready for a while."
SBCC voted in September 2018 to become an Open & Affirming congregation. Although the church has been an equal opportunity employer for years, it did not have an employment non-discrimination policy in place because of congregational transitions and COVID.  The board approved its non-discrimination policy in January 2021.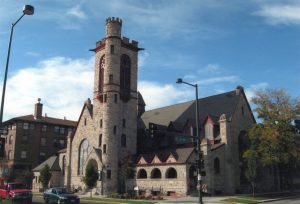 About SBCC
"We were formed in 1890 and have been in this location since 1892. In the last generation, we have evolved to become a strong outreach and justice-centered congregation. We are an active part of local justice work, feeding and housing our friends without homes as part of the Women's Homelessness Initiative. We work to foster relationships with the community outside our doors. As an urban church, we are always looking for ways to use our space to build community and diversity in meaningful ways. We host the Denver Underground Music Showcase each summer, and have thousands of folks through our doors in a single weekend."

Pastor Adkins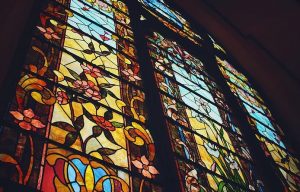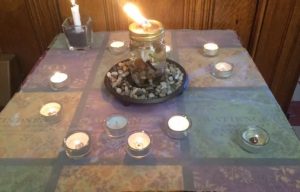 Find SBCC on Facebook. At www.sbcchistory.com you can find photos.
To the members and leaders of SBCC, thank you for proclamation of welcome. May you continue living into your identity as Open & Affirming.
It's a journey
Pastor Adkins described the two year journey of SBCC. Are you interested in resources for the welcoming journey? Building an Inclusive Church (BIC) trainings are for leaders in congregations which are considering becoming Open & Affirming and for those who would like to know more about supporting other congregations becoming O&A. This training will hone your skills and give you knowledge about how to help congregations through those tough conversations toward a more fully inclusive church. We're glad to work with your group individually. Full details about the journey and trainings here: http://disciplesallianceq.org/bic-trainings/
Every month we celebrate O&A anniversaries. Eleven ministries celebrate anniversaries in April.