The Sunday New York Times (10/21/18) included an article about a new effort by the Department of Health and Human Services to narrowly define "sex" and other terms for purposes of their legislation and rule making. Specifically, the article describes plans to "erase" transgender people by removing hard-won legal protections against discrimination.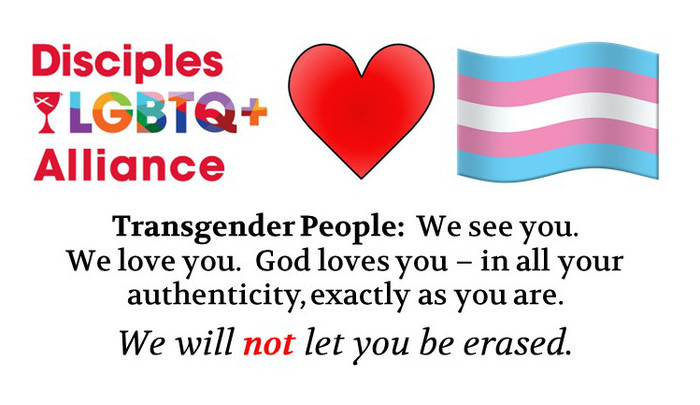 The Disciples LGBTQ+ Alliance deplores this effort and related attempts to build discrimination into legal systems. The inherent God-given dignity and full equality of transgender people is fundamental to the organization's beliefs, and is explicitly recognized by the 2013 General Assembly of the Christian Church (Disciples of Christ).
While of course noting the American principle of separation of church and state, we also note that societal efforts like this one are often sponsored and supported by Christian factions whose interpretation of scripture and whose notion of God do not exhibit the unconditional love and acceptance we see in the example of Jesus Christ.
To the transgender members of the Alliance and trans people worldwide, know that we see you and that we will not let you be erased. We sympathize with your fear and confusion at a world that would punish you for being authentic. We love you, and God loves you, exactly as you are.
To our queer Christian members and allies, and people worldwide, we exhort you to work within faith communities and worldly systems to ensure that discrimination does not have a place in our society.