Virtual Pulpit Supply from Rev. Laura Jean Allen
Rev. Laura Jean Allen is preaching from the October 24 lectionary text Mark 10:46-52. Request Rev. Allen's scripture reading, sermon and sending forth here.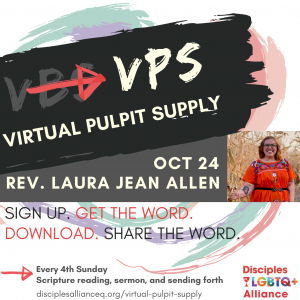 How does Virtual Pulpit Supply work?
VPS is offered once a month for the lectionary text assigned to the fourth Sunday. To sign up for the September materials or any previous materials, fill out this VPS request form.
By 5 p.m. ET on the Monday before the assigned date, you will receive an email with a link to download a video containing the scripture reading, sermon, and sending forth. If you request previous months' materials, your downloads will be sent within 2-3 business days. While drawing from the lectionary texts, you are welcome and encouraged to download VPS materials at another time in the month if it works better for your ministry.
How much does it cost?
There is no cost to download the VPS materials. However, to sustain this ministry, we ask that you consider making a donation to AllianceQ. You can support the Virtual Pulpit Supply project and donate here.
You may also mail a check to: Disciples LGBTQ+ Alliance, P.O. Box 44400, Indianapolis, IN 46244 with the memo "VPS."
Full details on VPS, previous months' preachers and themes
About the Rev. Laura Jean Allen (LJ)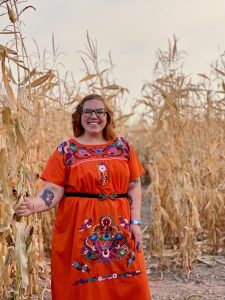 Rev. Laura Jean Allen (LJ) (she/her) is ordained in the Christian Church (Disciples of Christ). She received her Master of Divinity from Brite Divinity School, in Fort Worth, TX. She pastors First Christian Church, in Helena, MT, and is the secretary and pastoral care liaison for AllianceQ. She is happily married to her partner, Kit, and they are the parents of two fun and furry kids, Bradley and Nala. Laura Jean also serves on several boards within the General Church, and several committees within the Northern Lights Region.
Request Virtual Pulpit Supply now.