Chalice Media Group and National Benevolent Association sponsor Colors of Hope Retreat, financial support available! Register now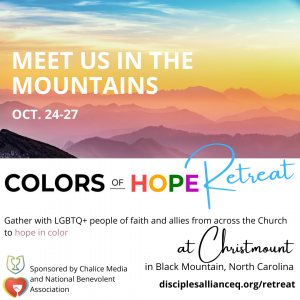 With thanks to our sponsors, Chalice Media Group and National Benevolent Association, there is financial assistance available to make the Colors of Hope Retreat a reality for you.
Gather with LGBTQ+ people of faith and allies from across the Church to hope in color and enjoy the colorful foliage at Christmount with the Disciples LGBTQ+ Alliance. By engaging the spiritual practices from the devotional journal Colors of Hope, you will be encouraged and equipped to embody your faith—and queer your spirituality. With an emphasis on connection over content, you are invited to join the book's editor and authors to wonder, resist, embody, create, hope, stretch, and share. >> Register for the Colors of Hope Retreat <<
Learn and unlearn and rest
Along with programmed opportunities, embrace the intentional space for rest, restoration, and restorying.
Registration
Students and anyone with restricted/limited income are invited to use the discount code hopingincolor to save $125.
If you find that you need additional or full support, email Melissa@colorsofhope.net to inquire about remaining scholarship funds.
Support
The Alliance wishes to thank Disciples Public Presence and Stephanie Kendell for contributions to the retreat scholarships. If you cannot join us but want to help make this experience a reality for others, donate here.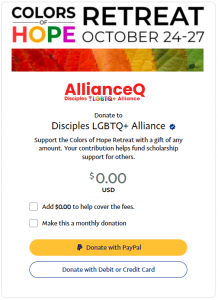 ALL THE DETAILS
COVID precautions, ride share travel options, the rhythm of the retreat: https://disciplesallianceq.org/retreat/
Ready to make your reservation?
Go directly to ticketing at https://ti.to/colors-of-hope/retreat