These remarks were shared by Rev. Allen V. Harris, Regional Minister of the Christian Church (Disciples Of Christ) Capital Area, at a Faith Vigil held at DuPont Circle, Washington, DC, on June 15, 2016 in response to the shooting at the Pulse nightclub in Orlando, FL.
Many important things have been said already tonight and much more will be shared that will touch our hearts and minds and spirits as we memorialize the tragic massacre in Orlando at the Pulse nightclub in the early hours of this past Sunday, a Sabbath day for many of us.
But I want to take a moment to address a specific segment of our community, one for whom I can speak most authentically and, I hope, convincingly: white gay men. For I am a white, gay man.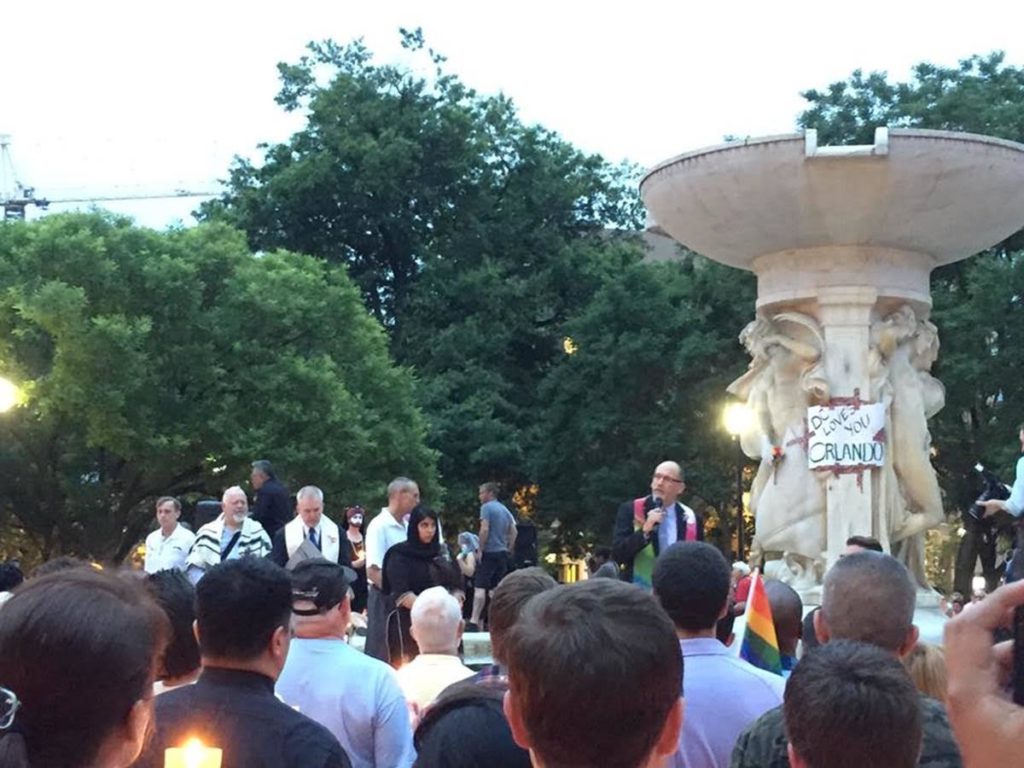 I begin by saying to my white gay brothers that I understand that we are in pain. I have cried many tears myself since receiving the news three days ago, and I know that we, too, are the victims of violence and hate. Too many of us have been at the bloody end of the baseball bat. I myself have known the spit-soaked threats of violence and the wretched screams of "child molester" and "prostitute" as have so many of you. And I am well aware that one of the heartbreaking icons of deadly homophobia, Matthew Shepherd, was white, gay, and male.
But Orlando necessitates that I remind my white gay male cohort that as much pain and suffering and death as we have known, our misery pales in comparison to the unrelenting, and bone-deep horror that our companions on the journey who are People Of Color, Immigrant, Transgender, and Female know as an experience that is as constant as their own breath.
What happened in Orlando pushes us to the cusp of a unique moment in history and we have a life-changing choice to make: we white gay men can retreat into our own world and stay disconnected from the suffering of others, as we too often have done, or we can take this moment to finally address the systemic racism of our culture, the white privilege that is the ocean in which we swim, the misogyny, xenophobia, and transphobia that has reared its ugly head time and time again in our attitudes and behaviors. I – and we – cannot fail our 49 fallen comrades by failing once again to address the issues that have divided us one against the other for too long.
Does this feel like an added burden on top of the grief and fear and anxiety we already experience? Probably. Probably so, but as Jesus Christ once said, "From everyone to whom much has been given, much will be required; and from one to whom much has been entrusted, even more will be demanded." (Luke 12:48) Let us memorialize the fallen by transforming our culture and living out, finally, the rainbow equality which we so proudly proclaim.
Our Disciples of Christ General Minister & President, the Rev. Dr. Sharon Watkins, who not too long ago preached at President Obama's first Inaugural Prayer Service, said earlier this week to our churches and members via video,
"Through it all, this is the time to reach out to each other – as secular communities and communities of faith – as one human family knit together by God who loves us. Let us take action, in ways small and large, to show that love is stronger than hate. Love wins."
Let one of those actions we take be to finally confront racism in the white gay male community, and may we become a model for our straight comrades to follow our lead. In doing so, those who died in Orlando will not have died in vain, and love WILL win.
May it be so. Amen.