Because of my son: A Story of Welcome
*contributed by Daphne Reiley, Parent, First Christian Church of Decatur (Disciples of Christ), author of Love, Then Listen: Sharing My Son's Journey Toward His True Gender
I participated in PRIDE because of my son Felix. Felix is transgender and gay. His transition has changed our entire family in deep and abiding ways. When he came out to me, he admitted that he had been afraid to tell me (us) because everyone (online, friends, etc.), told him not to because we would not love him anymore. I was shocked and dismayed at that admission. Yet, since we have had innumerable discussions, I came to understand how Felix started to doubt his relationship with his family. He had been bombarded by so many frightful stories of peers being kicked out and abandoned that his confidence in our love began to erode. Fortunately, our family has been covered in a veil of grace throughout this process with Felix. He is healthy and happy.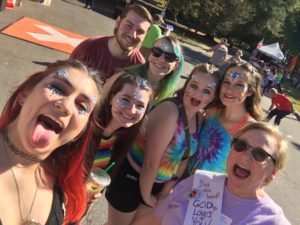 Being a presence at PRIDE was important to me. I have often seen posts of other mothers offering to be wedding moms, offering mom hugs, etc. I decided I wanted to be present to all of those who attended PRIDE who might be in need of an honest, accepting hug. The response was overwhelming, and I wasn't shy. I wore a banner that read, "You are loved. God Loves You, Mom Hugs Here." So many different people; some very young, some very old, and a lot in between, stopped bravely, made eye contact to be sure of my intent and then had their hug. There were others who passed me by and then slipped back for their hug. Some walked on by. My doing this was important on a few levels. First, as a mom of a transgender person I wanted to somehow have an impact on the lie that all families kick their children out if they are LGBTQ+. Second, I wanted to offer myself up as an example of a loving stranger. Sometimes, a loving stranger can save someone's life simply by being authentically loving and accepting.  That was my prayer for the day. Third, I wanted to be a different kind of family story, working against all of those stories which frighten young people out of sharing their stories and becoming lost.
The presence of the Disciples LGBTQ+ Alliance at events like PRIDE also makes strides toward individuals outside of an open and affirming congregation realizing that not all Christians are like the screaming and preaching groups gathered spewing hate. Please keep being present! AllianceQ being present at events like PRIDE also affirms the work of congregations in their efforts to be supportive of LGBTQ+ individuals who might be in need of loving acceptance.
Read other Stories of Welcome.
Make a gift to the Disciples LGBTQ+ Alliance so that stories of welcome replace stories of unwelcome.
Do you have a "story of welcome" that illustrates how you have found welcome and belonging? How did a person or congregation extend its welcome and how can others help widen the welcome?
How can churches work to replace stories of unwelcome with stories of welcome?