News from AllianceQ: March 2023
"Together Again" convocation brought AllianceQ and Gateway ONA together in person
After three years of virtual collaboration, the Together Again: Gateway Open & Affirming Convocation in St. Louis brought AllianceQ and Gateway ONA together in person!
Gateway ONA (GONA) is a regional ministry of the UCC's Open & Affirming Coalition. Among the gifts of our partnership, GONA has supported the Alliance by sharing profits from its Drag Bingo events and splitting the convocation offerings between our ministries.
In addition to a keynote from author and advocate Lisa M. Brennan — she wrote The Auditorium in My Mind: Treasuring My Transgender Child — the March 4 event featured workshops for exploring and deepening Open & Affirming ministry. Rev. Melissa Guthrie facilitated "Embodying our Faith and Hoping in Color."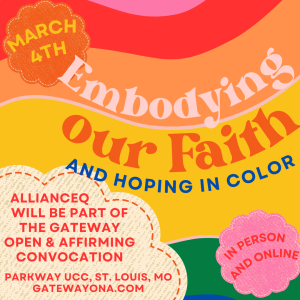 One goal is increased participation from area Disciples. Pictured below are some DOC attendees.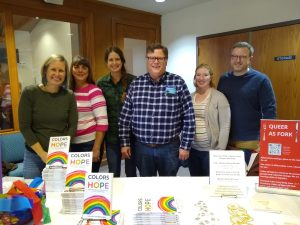 Also pictured in images below: an opening worship hymn, communion, and Chalice Press' Brad Lyons with our Executive Director + Minister Melissa Guthrie.