Preorder Colors of Hope: A Devotional Journal from LGBTQ+ Christians
This devotional journal is an adaptation of the Colors of Hope podcast series with expanded content and unique journal prompts. Preorder your copy from Chalice Press.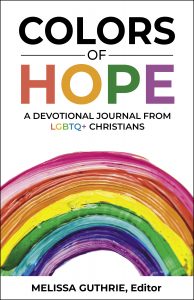 A faith-based resource for every body, for the LGBTQ+ community and the wider Church, Colors of Hope draws upon the iconic Pride flag and raises a call to embody our beliefs. Using Gilbert Baker's original flag and its eight colors and themes—sexuality, life, healing, sunlight, nature, art and magic, harmony and serenity, and spirit—readers are invited to reflect, engage, and apply discoveries. The devotions present a range of views, all full of hope, paired with thematic journal prompts and calls to action. The book includes an invocation, introduction, weekly reading, daily reflections, benediction, and list of resources. Colors of Hope is an expansive resource for personal growth and collective change. "Hoping in color" brings the joy, beauty, and power of the rainbow to life.
Featuring contributions from Tyler Heston (he/him), Alysha Laperche (they/them), Sandhya Jha (she/they), Nadia Tavera (she/they), Andrew Deeb (he/him), William DeShay C. Jackson (they/them), Melissa Guthrie (she/her), Renair Amin (she/they), Brendan Y. Boone (he/him), Allen V. Harris (he/him), and Marian Edmonds-Allen (she/they).
From Rev. Melissa Guthrie:
"It has been a joy to work with the contributors, to hold their stories and fashion a complete narrative. Readers will cry and laugh — and go shopping for something purple. You will wear purple after reading 'How else than by the Spirit,' the reflection on the color purple from Allen V. Harris.

We're bringing a real gift to individuals and the Church. This devotional journal is not (exclusively) for LGBTQ+ individuals. It is an invitation from LGBTQ+ Christians for each of us to more fully embrace our beauty and power, and it is a call to truly embody our beliefs.

What does hope look like in our changing landscape? What color is hope?

Hope in color with us."
From Alysha Laperche:
"What began as a series of podcasts has evolved to serve as a source of empowerment for LGBTQ+ Christians and allies. Many LGBTQ+ Christians have been told that we are not fit to teach, preach, or speak in a faith context because of who we are and how we love. Just as a rainbow stretches across an expanse of the sky, Colors of Hope stretches an expanse of identities, locations, ages, abilities, genders, and more.

For our allies, family members, and those who want to learn more, the devotions and journal prompts provide opportunities to engage scripture and explore worldviews outside of or beyond one's own context.

Rainbows are plastered everywhere during Pride month. We all know that when Pride month concludes individual and corporate social media profiles pivot from all-rainbows-all-the-time to whatever they looked like on May 31. Pride—and the fierce urgency for hope—must stretch beyond a single month, filling every single day and every single space with color."
Preorder your copy from Chalice Press.
Shipping March 2022.