News from AllianceQ: March 2021
Open Position: Ministry Intern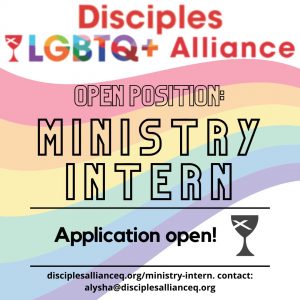 We, the Disciples LGBTQ+ Alliance, are members of the Christian Church (Disciples of Christ), called to join in God's work of transforming the Christian Church (Disciples of Christ) into a just and inclusive church that welcomes persons of all gender expressions and sexual identities into the full life and leadership of the church. We are invested in supporting the discernment and formation of seminarians and ministers early in their vocation, and equipping individuals interested in social justice and nonprofit leadership.
It is not a requirement to be in seminary/ministry or have plans to pursue either. The program opportunities will be shaped by the interest and skill areas of the intern but generally include learning and tasks related to: Open & Affirming Ministry, intersectional justice, pastoral care, worship, education, development and administration.
The Ministry Intern will:
Nurture connections with Council Members, Disciples Open & Affirming ministries, members of AllianceQ, and ecumenical partners;
Assist in creating/editing oral, written, visual and multimedia projects;
Curate educational and spiritual resources;
Develop nonprofit administration skills through regular supervision with the Executive Director + Minister (EDM);
Engage in donor relations;
Identify an independent project in consultation with the EDM and Council Moderators;
Practice healthy boundaries/preventing burnout as a person in Christian ministry; and
Participate regularly in AllianceQ Council Meetings (3rd Mondays at 7 p.m. EST).
TIMELINE & LOCATION
The internship will run from August until December, averaging 10-12 hours/week, and pays $15/hour. Specific start and end dates can be negotiated with the intern to meet their needs and the needs of AllianceQ.
This position is remote and applications are welcome from anywhere within the United States and Canada.
AllianceQ is open to working with the intern to minimally alter the program to meet educational program requirements.
QUALIFICATIONS AND SKILLS
Must be at least 18 years of age and legally eligible to work in the United States
Proficiency in Google Drive (Docs, Sheets, Forms etc.)
Familiarity with Social Media programs: Facebook, Instagram, Twitter, etc.
Must have internet-enabled computer; consistent access to internet connection
Possess a cellular telephone or a Google Voice number that one can be reached at
Knowledge of graphic design platforms; Canva, AdobeSpark, etc.
Strong sense of time management
Self-starter
Collaborative and creative thinker
Detail-oriented
Strong commitment to the values of AllianceQ
Committed to contributing to the flourishing of AllianceQ
Practices both deep patience for the slow labors and urgent necessity of justice work
Strong written and verbal communication skills
Committed to self-growth, personal accountability, and being challenged
Interested in engaging Christian communities for the sake of collective liberation
Able to articulate clearly what makes AllianceQ a good fit
Deeply invested in the role of LGBTQ+ affirmation & inclusion in Christian ministry
Preferred: Knowledge of the Christian Church (Disciples of Christ)
APPLICATION PROCESS
Application Opens: March 1               Application Closes: May 15
Round 1: Interested individuals complete this application. 30-minute introductory conversations are scheduled with all applicants on a rolling basis. These conversations will include the AllianceQ Vice Moderator and at least one additional AllianceQ Council Member.
Round 2: A select number of individuals from Round 1 are invited to have another conversation with the Vice Moderator of the AllianceQ Council, as well as the Moderator, Executive Director + Minister (EDM); and at least one additional member of the Council, OR one non-council member of AllianceQ.
Offer Made: Week of June 7
All inquiries: Contact Vice Moderator Alysha Laperche (they/them) Alysha@disciplesallianceq.org
AllianceQ is an equal opportunity employer committed to assembling a diverse, broadly trained team. Women, gender expansive and LGBTQ+ people, people with disabilities and veterans are strongly encouraged to apply.
In compliance with applicable laws and in furtherance of its commitment to fostering an environment that welcomes and celebrates diversity, AllianceQ does not discriminate on the basis of race, color, creed, national origin, sex (including pregnancy and parental status), disability, age, veteran status, sexual orientation, gender identity or expression, marital status or genetic information in its hiring, programs or activities. AllianceQ is committed to providing reasonable accommodations to qualified individuals with disabilities upon request.