Christmas in July/Pride Every Month
We know it's August. We also know that it's always a good time to celebrate and always the right time to work for the affirmation, love, and liberation of all. Quoting August Laperche who composed the Introduction to the devotional journal Colors of Hope, "Pride–and the fierce urgency for hope–must stretch beyond a single month, filling every single day and every single space with color."
Queering the "Christmas in July" concept and calling for Pride every month, the Alliance is hosting a 31-day fundraiser to increase our resources so we are able to support LGBTQ+ people of faith and ensure faith communities are equipped to do likewise.
The first ten individuals to donate $50 or more will receive a custom-made AllianceQ ornament. Support our ministry and display your pride all year long! Not one of the first ten $50 donors? Donating less than $50? Every donor to give $25 or more will receive the AllianceQ "All Means All" vinyl sticker. Every donor at every amount will be recognized at the July 2023 General Assembly.
The promotion is applicable to our Facebook fundraiser and
this PayPal link
. A total of 20 people will receive the custom ornament: a wooden heart-shaped progress flag, engraved on the back with our vision statement: Affirmation, Love, Liberation for ALL.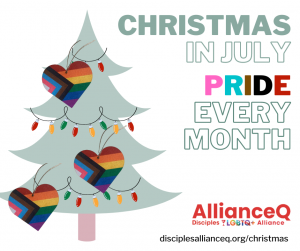 The Council Treasurer, Elijah Burton (he/they), explains, "We need the resources. We think a Christmas in July/Pride Every Month Fundraiser will get people's attention and be fun."
Donate now through the end of August. Donate via the Facebook fundraiser or
this PayPal link
.
More than a fundraiser
Got an ugly Christmas sweater? Or an LGBTQ-Christmas outfit? Post and/or send us these photos to spread the queer Christmas in July/Pride Every Month spirit! How are you showing your Pride every month? You or your church or organization? Tell us!
Use these hashtags:
#AllianceQChristmasInJuly
#PrideEveryMonth