Welcome to Ministry Intern Alysha Laperche!
Alysha Laperche (they/them/theirs)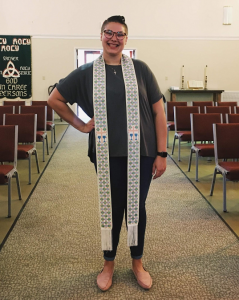 Greetings, all! I am honored and excited to be serving with AllianceQ as an intern this semester (January-May 2020). I am a current student at Phillips Theological Seminary, where I am pursuing my Master of Divinity (MDiv). I am also a coffee enthusiast, sunset-lover, and aspiring author. I grew up in the Tampa area of Florida and was first introduced to the Christian Church (Disciples of Christ) in late elementary school when my family attended Brandon Christian Church. A few years later, my parents accepted a pastoral call from a Cumberland Presbyterian church. It was through my engagement with that congregation that I discerned my call to ministry at a young age. I hold a bachelor's degree in Social Work, and through those studies, I was introduced to progressive values which led me to an affirming seminary community where I re-connected with the Disciples. My ordination process is with the Christian Church (Disciples of Christ) of the Northern California-Nevada Region, and my sponsoring congregation is Lafayette Christian Church. Through partnerships with organizations and ministries like the Disciples AllianceQ, I am excited to continue following my call to embody the inclusive love of God revealed in Jesus Christ; particularly through working to actualize the vision of setting a place at the table in faith communities for people of all gender identities and sexual orientations.
***
AllianceQ is excited and honored to welcome Alysha as its inaugural Ministry Intern. Read "Imagining the Possibilities: A Story of Welcome" by Alysha.