News from AllianceQ: April 2022
Virtual inclusive church Toolkit training May 14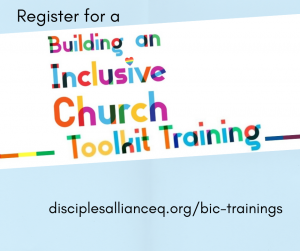 Design and implement a journey for your faith community to publicly and intentionally welcome people of all gender identities and expressions and sexual orientations. The training empowers groups to create a grace-filled process for becoming Open & Affirming, tailored for the needs of each community. Deepen relationships throughout your faith community rather than spark debate or division.
Saturday, May 14, 3-6 p.m. ET
Have a small group? Interested in scheduling a training experience tailored for your community? Be in touch!

AllianceQ offers different registration options to meet the financial needs of attendees and ministries. We want to share the tools with you and your ministry. Contact us for group rates or scholarships as needed.
Regular Registration $30
Student/Restricted Income $15
Click Donate to begin your registration. When PayPal displays your receipt on the screen, click "return to merchant" to immediately be directed to our detailed registration form to select your training date. Note you do not need to have a PayPal account. You can select "pay with debit or credit card."
---
If you prefer to send payment by mail or need to register multiple individuals, use this form: BIC Training Registration with Mailed Payment or Multiple Participants.
Each training is limited to the first 20 participants. Please note that a training may be cancelled if there are fewer than 8 participants. In this case, payments will be applied to another training date of your choice.
Upon receipt of payment and the registration form, you will be provided with a Training Welcome Packet, Congregational Assessment Tool and The Toolkit Overview. You will also receive a secure Zoom meeting link for the selected training. Here we grow…