News from AllianceQ: March 2021
Transgender 101: The "T" in LGBT
L, G, B and T.
"These letters were an evolution toward inclusion — an expansion of the language used to represent a disparate group that had often just been called 'the gay community.' Despite their intent, the letters proved to be limiting.

Times and attitudes have changed, and the language used to discuss sexual orientation and gender identity has also changed." -"The ABCs of L.G.B.T.Q.I.A.+" [1]
Language is a living thing.
Join AllianceQ for a workshop and Q+A session about the "T" in LGBT.
Monday, March 29
12 p.m. PT | 1 p.m. MT | 2 p.m. CT | 3 p.m. ET 
Free – $15
To join live or receive a recording of the workshop, 

About registration
There is no cost to participate in the workshop. To continue providing resources and to widen this ministry we encourage those who are able to make a financial gift by selecting any of the suggested registration types. When you submit the registration form, you will be directed to PayPal. The "People's Registration" is free and you can exit PayPal if that is your selection. We thank you for helping sustain the ministry of AllianceQ and we look forward to seeing you on March 29.
General Registration $5
People's Registration FREE
Supporter $10
Partner $15
Scholarship Donation for this or other events $30
Complete your registration to receive the secure meeting link in advance of the training. Registration includes a recording of the workshop for review or for anyone unable to join us live.

Topics about transgender, gender nonconforming (GNC) and gender-diverse people have been prominent in the news, in television and movies, and in public opinion. What does "transgender" even mean, let alone "genderfluid"?
Who gets to pick what bathroom or locker room transgender people use? What about teachers who refuse to call a student by their preferred name — or their legal name?
Whether you know and love any transgender or gender nonconforming people or whether it's all new to you, this 90-minute workshop and Q+A session will provide basic facts and understanding for the personal and political aspects of transgender and GNC people in the world and in the church. Facilitated by Robin Knauerhase, former Council Moderator and Research Scientist (Retired), Intel Corporation.
Why this workshop, why now?
Transgender Day of Visibility is March 31. An annual day of awareness celebrated around the world, the day is dedicated to celebrating the accomplishments of transgender and gender nonconforming people while raising awareness of the work that still needs to be done to achieve trans justice. [2]
AllianceQ celebrates and seeks to live into the church's 2019 resolution GA-1929 "An Invitation to Education for Welcoming and Receiving the Gifts of Transgender and Gender-Diverse People." [3]
Other opportunities + experiences this month:
Do you need help deciphering the entire alphabet soup?
Scan our print and media resources here, including the replay of a webinar co-hosted by AllianceQ and the Disciples Seminary Foundation.
Contact us with questions or to ask for a specific resource on a given topic.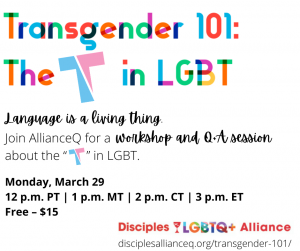 [1] "The ABCs of L.G.B.T.Q.I.A.+," The NY Times
[2] "Transgender Day of Visibility," GLSEN
[3] "T" image from Transgender Professional Association for Transgender Health