Oceanside Sanctuary is Open & Affirming!
On January 28,
The Oceanside Sanctuary
in Oceanside, CA, completed a five-month process of renewing its mission as a congregation.
Lead Pastor Rev. Jason Coker says, "During that process, we decided to formalize and make public our commitment to be an open and affirming church. This process included several congregational listening sessions, an anonymous congregational survey, several Board and staff meetings to craft language, several weeks of public input on the new draft mission from congregants and community partners, and a final congregational meeting to vote on approval the new mission commitment, including our new open and affirming language. The congregation voted unanimously to approve these commitments. "
AllianceQ welcomes Oceanside as its 215th Open & Affirming Ministry!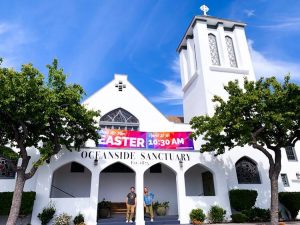 The Oceanside Sanctuary is excited to take this important step into a deeper faithfulness to the radically inclusive gospel of Christ. As the pastor, I couldn't be more proud of this congregation for boldly following where the Spirit of God is leading, and for working out this process in a loving, intentional, and relational way.
Oceanside's commitment to be an open and affirming congregation is expressed in the following portion of its new mission statements:
"We practice the inclusion and empowerment of all who have been historically excluded and disempowered in church communities, including women, people of color, persons with disabilities, and LGBTQ+ persons; we affirm and celebrate the sacrament of marriage for all loving couples, regardless of gender, sexuality, or identity."
In addition, Oceanside set the following congregational priority:
"To become a more empowering community for women, people of color, persons with disabilities, and LGBTQ+ persons."
Oceanside, thank you for your ministry!
If your faith community is interested in resources for the welcoming journey — beginning this journey or deepening the commitment to Open & Affirming ministry, contact
Melissa@disciplesallianceq.org
.
Virtual Building an Inclusive Church Trainings happening now
A Building an Inclusive Church (BIC) training helps you design and implement a journey for your faith community to publicly and intentionally welcome people of all gender expressions and sexual orientations. The training empowers congregations to create a grace-filled process towards becoming Open & Affirming, a process uniquely designed for the needs of each community.
Using the Building an Inclusive Church Toolkit, you will be equipped to deepen relationships throughout your faith community rather than spark debate or division. The Toolkit is an ecumenical resource with best practices, in its third edition developed by numerous Welcoming Church partners. Full details and training dates here: http://disciplesallianceq.org/bic-trainings/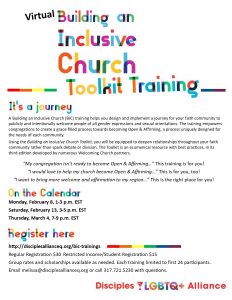 Training dates will be added to the calendar throughout the spring and summer months.