News from AllianceQ: May 2018
Meet our Moderator Elect
At the April Council call, the AllianceQ Council elected Robin Knauerhase as our Moderator Elect, to begin serving as Moderator of the Council on July 1.
Dan Adolphson, our current Moderator, completes his term as a member of the Council on June 30. He has been serving as Moderator for almost 3 years, and has been serving on the Council since 2013.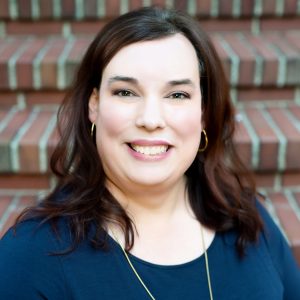 Robin has been serving on the Council since 2015 and has been serving as Vice Moderator.
Dan has this to say about Robin:
Robin will do an outstanding job as Moderator. She has the skills, talents, and vision to continue the intersectional work which has been our focus since 2015, and to continue to strengthen the Alliance's work of setting a place at the table for persons of all gender expressions and sexual orientations. Her skillset is especially important in these moments where LGBTQ+ rights are under renewed attack. Robin will help us continue to build a church of extravagant welcome and unashamed witness.
Here is a bio of Robin, which we actually think is a bit modest:
Robin Knauerhase whimsically describes herself as an "iconoclastic punny geek Christian, aspiring polymath, and incurable horophile." She is "out" as a woman of transgender experience and will be the first transgender Moderator of the Council. Her passion for queer-Christian equality stems in part from being rejected by her home church when she transitioned, and in part from the literalist interpretations of scripture she "soaked up" from her extended family. Beyond continuing the great work the Alliance already does, Robin hopes we can help educate the denomination about queer issues (it's easy to hate someone if you don't understand them), and to increase our involvement in intersectional justice work with other minority and/or marginalized communities.

Professionally, Robin is a research scientist with Intel; among her interests have been supercomputing, cloud computing, and Internet underpinnings. She holds 42 patents and has published in numerous academic workshops and conferences. Her volunteer activities at work largely revolve around queer-community activism; she is a VP of Intel's employee resource group for LGBT employees and allies, and she's a member of the "Out and Ally Leadership Council", a group of senior employees who advise the company on matters of queer diversity.

Outside of work, Robin is a member of the First Christian Church of Portland, and of course the AllianceQ Council. She has previously served on the boards of the Association of Welcoming and Affirming Baptists, the Living Room (a drop-in center for queer youth in Metro Portland), and the Friends of the Multnomah County Library. Recreationally, her hobbies include science fiction, data privacy, global travel, clever puns, and spicy foods. Robin lives in downtown Portland with her adorable cat Libby.