Love is an Action Word: AllianceQ, Race, Gender + Sexuality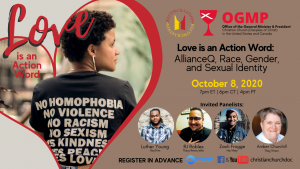 Updated October 12, 2020
"The communion table is dangerous. The communion table is dangerous because it tells me that I have to practice what I preach. If I really say that everybody is welcome, then I have to do my work to create that space or I have to get up and make space." -Rev. Amber Churchill (they/them)
"We are all made in God's image… I imagine a heavenly bakery where God is creating unique individuals and not once has God reused a cookie cutter. My faith is the lenses God has given me—quite literally!—and has allowed me to see more crystal clear others' beautiful uniqueness." -Zach Frogge (he/they/sshe)
Listen to the town hall recording to hear more from Amber Churchill, Zach Frogge, RJ Robles and Luther Young.
As part of the Disciples identity of striving to be an anti-racist, pro-reconciling Church, the Office of General Minister and President and Reconciliation Ministry offer these town hall discussions recorded in summer and fall of 2020. View a playlist of all town halls here.
***
You are invited to the next anti-racism town hall scheduled for October 8. Guest panelists will discuss how race can impact our relationships with our lesbian, gay, bisexual, transgender and gender diverse (LGBTQ+) siblings and encourage more inclusive, affirming faith communities.
Part of an ongoing series with the Office of the General Minister and President and Reconciliation Ministry, we are grateful for this opportunity. About the panelists:
Luther Young (he/him)

Luther is a Disciples of Christ minister, musician, public theologian, and social justice advocate who focuses on racial equity and LGBTQ+ inclusion. Luther is a graduate of Vanderbilt Divinity School and a current Ph.D. candidate in sociology at The Ohio State University. His current research investigates the causes and effects of homophobia in predominantly black churches. Luther currently serves as Minister of Music and a pastoral leader at Woodland Christian Church in Columbus, OH.
RJ Robles (they/them/elle)

RJ is a Puerto Rican queer and transgender community organizer, healer, and Christian minister. They were born and raised in Humboldt Park, Chicago, as a first-generation migrant in the U.S. In 2010, they started their movement work through reproductive justice work with Black and Latinx youth as a peer sexual health educator. Lives in Chicago.
Zach Frogge (he/they)

Zach is 17 years old, a senior in high school. Zach is part of the Youth Ministry Team (YMT) and the Regional Youth Ministry Council (RYMC). His favorite things to do in their spare time include digital art, fashion design, listening to music, writing and being a member of the school's theater department. A famous quote that they love and live by from the movie Beetlejuice is "people ignore the strange and unusual. I myself am strange and unusual."-Lydia Deetz
Amber Churchill (they/them)

The Rev. Amber Churchill is currently serving as the Interim Minister for Irving North Christian Church in Irving, Texas. Amber has spent the last twelve years working within churches and nonprofits to live into the Judeo-Christian scriptures call to do justice, love mercy and co-create a world of peace and justice with the Divine. This call has led them to engage in more intentional action around anti-racism and pro-reconciliation work within and outside of faith communities and is rooted in a liberation for all people and creation, including working for queer justice, environmental justice, voter rights, and immigrant rights.
Join us live on Facebook and YouTube October 8.