Every Day: Reflections from the EDM
Louise made me creamy potato soup when I was sick. I was so sick. I was so sick that Louise and her husband Cliff couldn't be exposed to my germs. It was raining when they pulled up to my home. Cliff found his way through the leaves that we had not time or energy to rake; he opened my front door and set the pot of soup inside. My wife is a good cook, but that soup was some of the best soup I've ever had.
**
For weeks I've been receiving email prompting me to give money (mostly to very good organizations) on Giving Tuesday. AllianceQ would love your gifts—on Giving Tuesday, sure. We would love your gifts, your time and your service, your affirmation, every day. The time you invest in our mission makes a significant impact. Dollars do too. It costs money to do ministry. Many of us are pastors and regional leaders and we know it costs money to do ministry.
It cost Louise when she made me creamy potato soup when I was sick. She spends a lot of money all year long, making soups and casseroles and desserts for church members and for the shelter. Her dollars spent on groceries and her time in the kitchen, those aren't recorded in the database; they're not recorded for tax benefits. They are recorded in tummies fed, hearts encouraged, spirits sustained, friendships formed.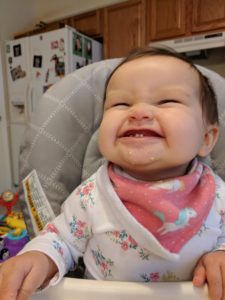 Sunday, Monday, Tuesday, Wednesday, Thursday, Friday, Saturday, Sunday, Monday, Giving Tuesday…
Every day AllianceQ receives gifts. Financial contributions come in—thank you! Phone calls are shared between pastors. Messages are exchanged between individuals, all over the country. O&A Team Members in Nebraska are collaborating with ecumenical partners. A North Carolina pastor is reaching out to colleagues to renew the region's focus on Open & Affirming ministries.
California and Oregon churches are celebrating Open & Affirming anniversaries. Happy 20th anniversary, University Christian Church! Happy 4th anniversary, Portland First Christian Church! Maryland welcomes a new O&A congregation. Congratulations North Chevy Chase Christian Church!
A minister journeys with parents of a child who just came out as gay. A teen tells a classmate about his church that welcomes everyone.
These gifts. These gifts are being shared every day. We are shaping stories of welcome as a result of your presence, your time, your dollars, your ministry.
Another story about Louise: She helped make the Chrismons that decorate the tree in the sanctuary. Sometimes she prepares the gingersnaps for all to enjoy after Sunday's Hanging of the Greens. The Hanging of the Greens–and the gingersnaps!–are favorites of mine. Intentionally hanging the garland, placing Chrismons on the tree, lighting the star, setting the nativity scene. The decorations and the meaning behind them help me focus on the gift of Advent. The gift of every day. Christmas Day will come. Giving Tuesday will come—and go.
Every day there is an opportunity for me to show up with intention, to give all of myself. To pour myself into my vocation, into parenting, into my marriage, into Sabbath-keeping. <That's important! It's also important to note that every day can seem daunting. I have to get to do this work every day. Every day there is space for grace and forgiveness, for starting over, scratching not-so-good terrible ideas, taking naps. <Important.
Every day there are gifts in ordinary, everyday graces and places.
I am part of a worshiping community that speaks together its Call to Offering:
We are God's people.
We belong to God and we belong to each other.
We are called to share our gifts
but we keep them to ourselves.
We are called to love and accept one another
but we don't know how, or don't want to, or aren't willing to.
May we treasure each person and each experience as precious and holy. May we know grace and acceptance, love and hope and peace.
We offer our gifts of money to sustain this ministry. We offer our time and our prayers too.
Everyone has something to give. We, ourselves, are a gift.
I am a gift. You are a gift.
"I am a gift. You are a gift."
We are deeply grateful that you are a part of this body, AllianceQ; may we honor our whole selves and may we deepen our efforts to engage our minds and bodies as we embrace every body.* Every day. Every single day.
*Sound familiar? The words concluded my November reflection titled "Bodies Matter." The words are part of my ongoing prayer. Perhaps you'll pray with me:
Dear God, we give thanks for the whole Body of Christ and for those who are intentionally a part of this body, AllianceQ. We give thanks for those who serve alongside us as DOC and ecumenical partners. We give thanks for those who work to widen the welcome, to embrace and share your limitless love. May all of us honor our whole selves and may we deepen our efforts to engage our minds and bodies as we embrace every body, every day. Every body matters. Every day matters. Amen.
**
If you want to give on Tuesday to support this work, please give on Tuesday.
If you want to give on Wednesday or Friday or Sunday or next week, please give.
Click here to give financially.
Click here to email us about how to give your time and talents. I'd love to talk with you about ways you can be involved.
Click here to learn about the welcoming journey.
#EveryBodyEveryDay