African American History: Marsha P. Johnson
Paying mind to "Pay It No Mind" Marsha P. Johnson
Marsha P. Johnson was an African American drag performer and social activist. The fifth of seven children, she was born Malcolm Michaels Jr. to Malcolm Michaels Sr. and Alberta (Claiborne) Michaels on August 24, 1945 in Elizabeth, New Jersey. Johnson switched names repeatedly as she established her persona, alternating between her given name Malcolm and Black Marsha before settling on Marsha P. Johnson. She chose Johnson because she enjoyed hanging out at the popular eatery, Howard Johnson's. The "P" purportedly stands for "Pay It No Mind," a flippant saying she used to dismiss antagonists.
Contributed by Council Vice Moderator Alysha Laperche, the narrative above and below is from https://www.blackpast.org/african-american-history/marsha-p-johnson-1945-1992/
On June 28, 1969, Marsha P. Johnson became one of the faces of the Queer Revolution. She went from her own party uptown to the Stonewall Inn on the corner of Christopher Street and 7th Avenue, arriving after the Stonewall Riot (Uprising) had begun.
The riot stemmed from members of New York's LGBTQ community being targeted by the New York Police Department (NYPD). LGBTQ people were routinely rousted, hassled, and arrested on questionable charges. That summer Saturday, their anger reached a breaking point after the police returned to Stonewall Inn for the second time in two days. According to Johnson, the police had forced her and others out onto the street to line up and be frisked the night before and then returned the next night and set the Stonewall Inn on fire.
Twenty-three-year old Johnson and her friend Sylvia Rivera were caught up in the Stonewall Uprising which went on for several days and is credited as the catalyst for the Gay Movement of the late 1960s. The Uprising spawned the first gay pride marches across the country in 1970. In the same year, Johnson and Rivera founded Street Transvestite Action Revolutionaries (STAR), which clothed, fed, housed, and advocated for transgender youth from a tenement on the lower eastside.
As the nascent Gay Rights movement swirled around her, Johnson fought social mores, the police, and her own demons. She suffered from mental illness, weathering breakdowns, arrests, and stints at psychiatric hospitals even as she strove to promote gay civil rights. An early ACT UP member and AIDS activist, Johnson also became a victim of the disease. She announced in a June 26, 1992 interview that she had been H.I.V. positive since 1990. Two years later on July 6, 1994, Johnson was found drowned in the Hudson River off the West Village Piers. The police initially declared her death a suicide and then agreed to reopen the case in 2012. She was 46 at the time of her death.
Citation https://www.blackpast.org/african-american-history/marsha-p-johnson-1945-1992/
More about Marsha P. Johnson
From Q Spirit: Kittredge Cherry presents an LGBTQ Saints series. Traditional and alternative saints, people in the Bible, LGBT and queer martyrs, authors, theologians, religious leaders, artists, deities and other figures of special interest to lesbian, gay, bisexual and transgender and queer (LGBTQ) people and our allies are covered.
Cherry highlights Johnson as an especially suitable saint to consider during the global protests against racism and police brutality, sparked by the murder of George Floyd in Minneapolis.
With unique biographical details and a podcast where Johnson herself discusses the Stonewall Uprising, this article includes icons of Marsha P. Johnson.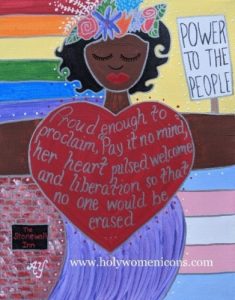 Johnson appears with a large heart and fabulous hat in a colorful contemporary icon by Angela Yarber, founder and creative director of the Tehom Center (formerly Holy Women Icons Project). The background is a patchwork with the LGBTQ rainbow flag, the transgender flag, the brick wall of the Stonewall Inn, and a "Power to the People" sign. Yarber is a painter, minister, author, scholar, dancer and LGBTQ-rights activist based in Hawaii and North Carolina. Nearly 50 color images of her folk feminist icons included in her book "Holy Women Icons."
Citation https://qspirit.net/marsha-p-johnson-stonewall/