We will shine our lights and work for trans* justice every day.
With a range of resources and action steps below, we know it can be difficult or overwhelming to know where to begin. We encourage you to connect with us and connect with one another. Intentional relationships with others will always be the greatest opportunity for us to learn about ourselves, others, and the world.
We need allies to become accomplices. We need ministries to renew and deepen their commitments and embodiments of Open & Affirming Ministry. We need faith communities to proclaim and manifest the welcome and affirmation of persons of all gender expressions and identities and sexual orientations. Begin the journey — information about becoming O&A can be found here.
Bringing to light the discrimination and violence
As of March 28, there have been 435 anti-LGBTQ bills introduced, with more than 115 of these bills aiming to end gender affirming healthcare for trans and nonbinary youth. More than 54,000 trans youth actively taking life-saving gender affirming medical care are at risk.
This is the highest number of anti-LGBTQ bills ever introduced in a single legislative season. Familiarize yourself with anti-LGBTQ+ bills in your state by using this map from the ACLU, the American Civil Liberties Union.
Shining our lights
With similar commitments from ecumenical partners, the Christian Church (Disciples of Christ) affirms transgender and gender-expansive individuals. Review the church's 2019 resolution GA-1929, "An Invitation to Education for Welcoming and Receiving the Gifts of Transgender and Gender-Diverse People." Talk about this in your faith community!
Post trans affirming and educational content on social media and share these messages in your faith communities and places of residence. Follow AllianceQ and the TDOV Vigil Sponsors – all linked below – to share their material.
Create your own affirmations! We will share your messages with those who need them. Send trans youth words of joy! Write a letter to trans youth, compose prose, poetry or blessings or create illustrations of affirmation for our trans and gender-expansive siblings. All words and/or artwork can be sent to alliance@disciplesallianceq.org with the subject line "Trans Affirmations."

Point of Pride is one organization with an easy-to-follow letter writing project. You can follow their steps and suggestions for what to write, and send your materials to them (address provided) or to AllianceQ and we'll send your notes. If sending to AllianceQ, electronic messages and artwork should be emailed to alliance@disciplesallianceq.org. Handwritten letters and illustrations can be mailed to AllianceQ, P.O. Box 44400, Indianapolis, IN 46244.
Lambda Legal has a similar project: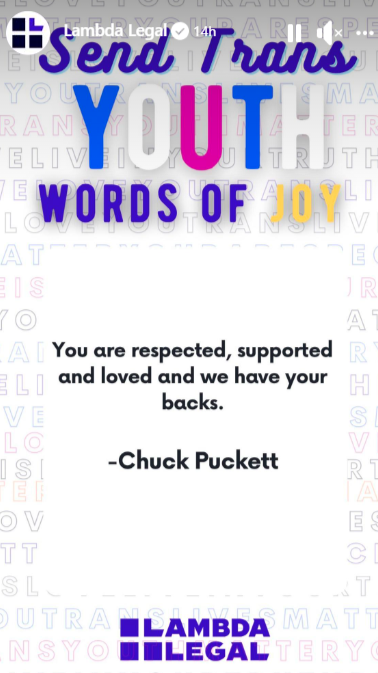 Tell people when they say something transphobic or cissexist. This may be calling out, calling in, or a different form of recognition. Accountability is vital for our community! Challenge misinformation. Don't be afraid to speak up because you are afraid to say the wrong thing. Ask questions…
Follow trans people that are putting themselves out there each day and reporting, fighting, or advocating.
Support trans-led organizations. Share with us the names of people and groups that you know are making a difference. We'll share with others!
Buy books by trans and queer authors.
Hope. From August Laperche in the Introduction to Colors of Hope: A Devotional Journal from LGBTQ+ Christians, "Hope is an act of resistance. It resists the depression and despair that swirl within us and around us. To hope is to imagine and shape a new reality: a brighter future, a more just and inclusive world."
Working for trans* justice
Download an expansive resource list from Colors of Hope. This resource list includes sections on:

The Christian Church (Disciples of Christ)
LGBTQ+ History and the Pride Flag
Mental Health and Wellness
Welcoming and Affirming Ministries
and General LGBTQ+ Organizations and Resources

Buy Colors of Hope for yourself or others; leave copies of the book in places where folks need a good word. The book will both settle and agitate your soul.
Connect with Q Christian Fellowship. QCF is cultivating radical belonging for LGBTQ+ Christians and allies. QCF has numerous resources in English and Spanish, including:
Challenge and fight anti-trans and anti-LGBTQ legislation. The United Church of Christ provides several entry points:
What do you need?
Trans 101? Coming out? Parenting? Prayers or worship resources from trans and queer people of faith? Pastoral care? How to meet with lawmakers? Not sure what you need? That's cool, too. Connect with us for help, support, and collaboration.
Email alliance@disciplesallianceq.org
Text/call 317.721.5230 to reach AllianceQ Executive Director + Minister Rev. Melissa Guthrie.
*A Note About Language
We use LGBTQ+ for an expansive community represented by a range of initialisms. We have used trans* throughout this resource and acknowledge that the identifier may include our nonbinary and gender-expansive siblings. Language and identity are constantly evolving.
Transgender Day of Visibility Vigil Sponsors
Many thanks to our sponsors — individuals and groups who support the ministry of Disciples LGBTQ+ Alliance and strive to affirm our trans and gender-expansive siblings: 
Transmission Ministry Collective, Open and Affirming Coalition UCC, Beloved Way, Downtown Disciples: Progressive Faith Community, First Christian Church (Disciples of Christ)-Minneapolis, Reconciliation Ministry, Disciples Peace Fellowship, Disciples Public Presence, Galileo Church, Phillips Theological Seminary, Fireside Christian Church Metro Denver, Heart of the Rockies Christian Church, National Benevolent Association Christian Church (Disciples of Christ), Portsmouth Union Church, Portland First Christian Church.