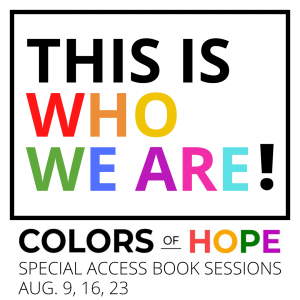 Update: Request the recordings of these special access book sessions!
"This is who we are!" was a three-week series featuring Colors of Hope Co-Creator August Laperche and Authors Nadia Tavera, Andrew Deeb, Renair Amin and Marian Edmonds-Allen. Meet the authors, get to know the authors, get to know yourself. A deeper and wider conversation about hoping in color.
While you can request these recordings for free, we hope you will consider making a donation to support Colors of Hope and the ministry of AllianceQ – the Disciples LGBTQ+ Alliance. The live sessions used a tiered registration cost of $15/$30/$45. Here's a link to make a donation. Know that more than anything we want you to hope in color with us and celebrate your rainbow self.
Also: there will be an in-person Colors of Hope Retreat October 9-12, 2023. Follow AllianceQ for details or email Melissa@colorsofhope.net to get Colors of Hope news and notes.
Colors of Hope invites us to wonder, resist, embody, create, stretch, share, and hope. Each special access book session will conclude with unique calls to action for personal and collective change. Get the supplemental journal content that invites you to…
Register for the series to receive the first special access material!
$30 regular registration
$15 student/restricted income registration
By clicking Donate, you will be taken to PayPal. When your payment is received, you are registered for the event and will receive event details by email.
Registration includes three virtual sessions with the book's authors, brand new Colors of Hope content, and supplemental journal prompts.