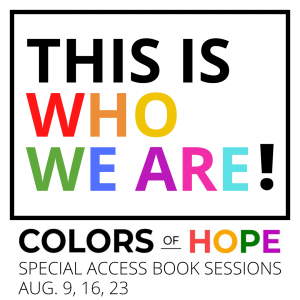 "This is who we are!" is a three-week series scheduled for the evenings of August 9, 16, and 23. Meet the authors, get to know the authors, get to know yourself. A deeper and wider conversation about hoping in color. Participate in the virtual sessions or receive the session recordings and special access materials to engage on your own.
Colors of Hope invites us to wonder, resist, embody, create, stretch, share, and hope. Each special access book session will conclude with unique calls to action for personal and collective change. Get the supplemental journal content that invites you to…
Register for the series to receive the first special access material!
$30 regular registration
$15 student/restricted income registration
By clicking Donate, you will be taken to PayPal. When your payment is received, you are registered for the event and will receive event details by email.
Registration includes three virtual sessions with the book's authors, brand new Colors of Hope content, and supplemental journal prompts.