News from AllianceQ: April 2021
Mental health, worthiness, healing, courage -- Rev. Dr. Caitlin Simpson brings the word for April's Virtual Pulpit Supply
In her sermon, "Embracing Our Imperfect Worth," Rev. Dr. Caitlin Simpson speaks to the themes of mental health, worthiness, healing and courage. 
Sign up to receive the sermon download, available April 19. You'll also get the scripture reading and a sending forth.
Sermon texts: Psalm 23; Luke 8:2; Matthew 28:8-10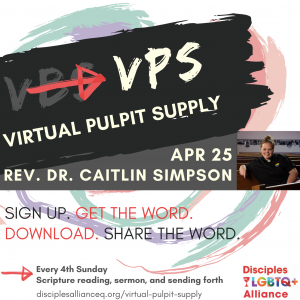 Virtual Pulpit Supply — what it is
AllianceQ offers Virtual Pulpit Supply with pre-recorded sermons on the lectionary text every fourth Sunday of the month. Available for download one week in advance, you will be provided with the scripture reading, sermon, and sending forth. Messages are relevant for worship, Bible study, small groups and workshopping. Archived on our website, you can download and incorporate VPS recordings for use on alternate Sundays or in a variety of contexts.
This month
We're delighted to introduce Rev. Dr. Caitlin Simpson. She serves as the Director of Crisis Response with the Center for Women and Families in Louisville, Kentucky. Caitlin's doctorate focused on Education and Social Change specializing in Trauma and Intersectionality Informed Ministry in Pastoral Care. Caitlin was ordained in the Christian Church (Disciples of Christ) Kentucky Region in 2015 as the first openly gay clergy member. She specializes in trauma recovery and resilience for care providers as they seek to assist trauma survivors in healing and recovery.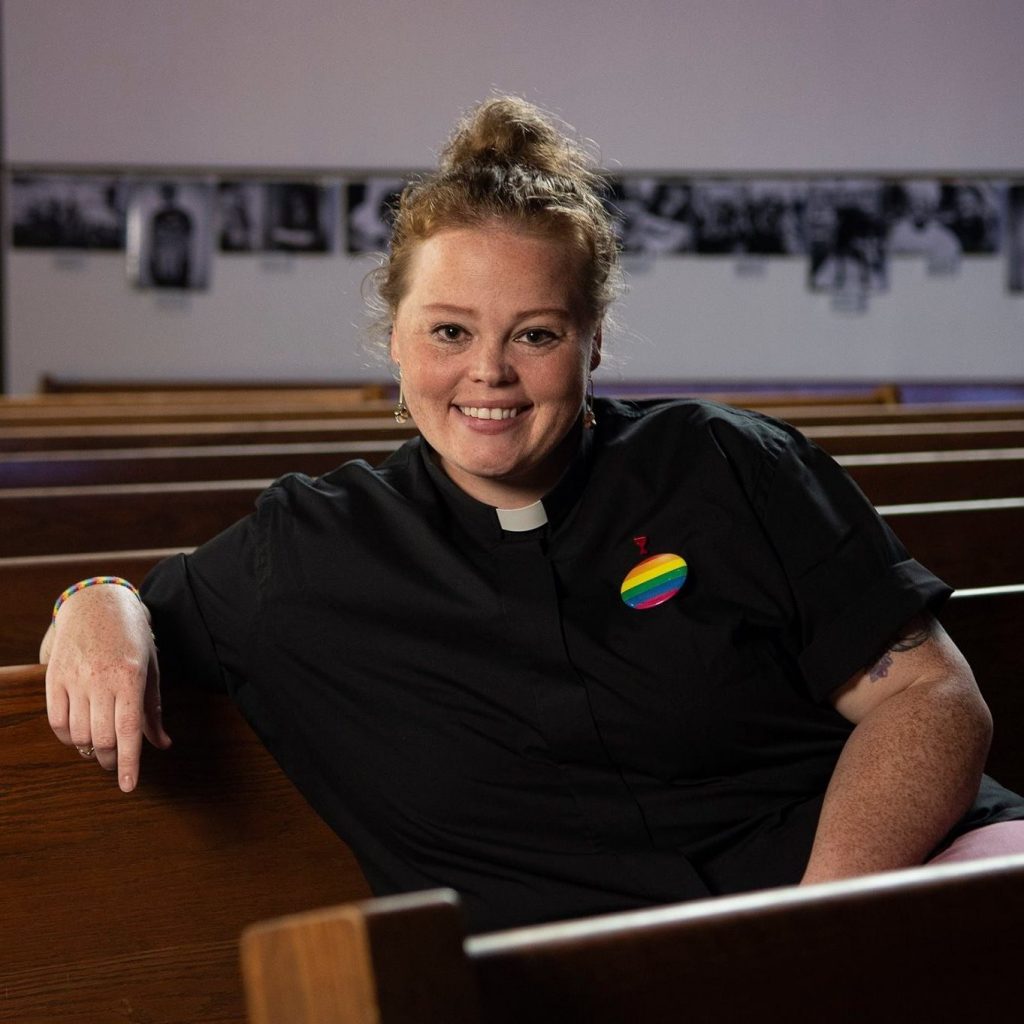 Caitlin serves on the Louisville Health Advisory Board – Behavioral Health Committee working to increase suicide prevention in the Louisville area. She is a trainer for Seeing the Face of God in Each Other, Kentucky's Anti-Racism/Pro-Reconciliation clergy training. Caitlin is a Gatekeeper Trainer working towards becoming a Master Trainer with Question.Persuade.Refer., an internationally recognized bystander suicide intervention program. Caitlin is a PTSD survivor who works daily to overcome the impacts of trauma and seeks to live into her whole authentic self. Caitlin and her wife, Courtney, are proud foster parents and live in Goshen, Kentucky.
In this TEDx Talk
, Caitlin speaks about the art of humanization using critical theory and a theology of inclusion rooted in the work of theological giants such as Letty Russel, Katie Cannon, and Richard Niebuhr as well as sociology giants such as Brené Brown and Peter Block, to name a few.
How does it work?
Fill out this VPS request form. By 5 p.m. ET on the Monday before the assigned date, you will receive an email with a link to download a video containing the scripture reading, sermon, and sending forth. You can also request materials from previous months. Those downloads will be sent immediately.
How much does it cost?
There is no cost to download the VPS materials. However, to sustain this ministry, we ask that you consider making a donation to AllianceQ. You can support the Virtual Pulpit Supply project and donate here.
You may also mail a check to: Disciples LGBTQ+ Alliance, P.O. Box 44400, Indianapolis, IN 46244 with the memo "VPS."
Who are the preachers?
Each month will feature an LGBTQ+ Disciples minister or seminarian. Preachers are active members of AllianceQ and/or Disciples Justice Ministries. Identifying as queer or an ally, each preacher brings a unique perspective for engaging and responding to the scripture. Bios will highlight the preacher's background and context.
Even more
March Virtual Pulpit Supply from queer trans man who knows the struggle of finding an affirming church – click here.
Rev. Erin Wathen with Week of Compassion preached in February. Rev. Luther Young, Moderator with the AllianceQ Council, preached in January. Request those downloads and get even more detail here: http://disciplesallianceq.org/virtual-pulpit-supply/

Sign up. Get the word. Download. Share the word.