Often packaged in spiffiness — lilies, hats, bows, eggs and bunnies? — Easter is messy and fleshy. AllianceQ and Parity hosted a community gathering on Ash Wednesday Eve to Spread Love Like Glitter. We highlighted that Glitter+Ash exquisitely captures the relationship between Ash Wednesday and Easter — a relationship between death and new life.
Soon journeying into the Easter season, we invite you to join us for an informal community gathering that celebrates new life and honors all that is still broken and brutal. Much like the assumptions of joy that surround the Christmas holiday, we know the Easter season holds joy and grief.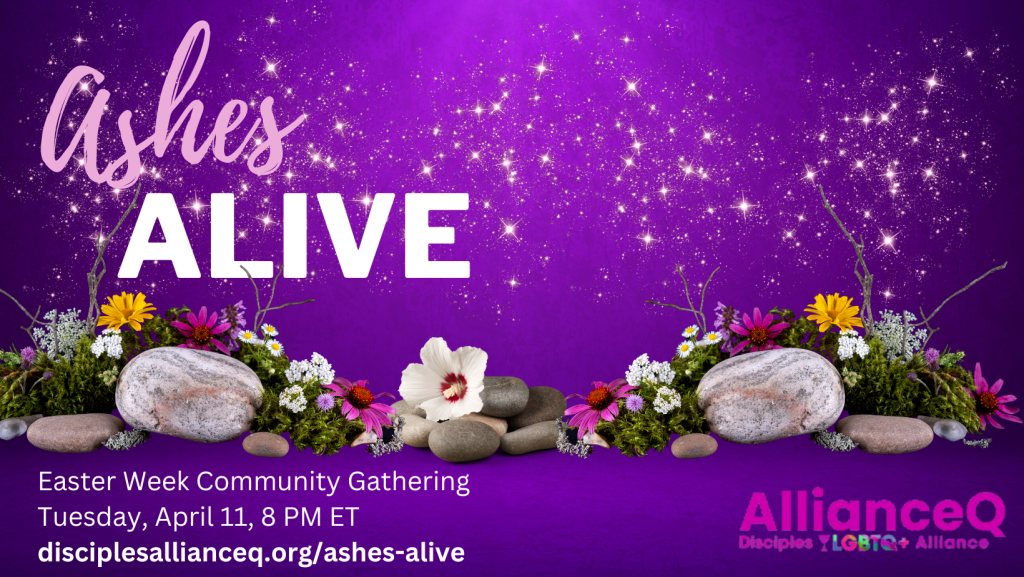 We will draw upon the Ashes Alive Lenten devotional from LGBTQI+ Christians and their friends, a project from Holy Dialogues in collaboration with Parity. The concluding devotional entry is composed by AllianceQ Executive Director + Minister, Rev. Melissa Guthrie.
Melissa reflects on John 20:11-20 and writes:

"I am a highly sensitive person. I feel deeply. And my feelings — a
whole range of feelings, from joy to grief–my feelings flow (flood)
from my eyes. I used to joke that I had faulty tear ducts. I've learned
to embrace the abundance of tears; my wife still seems surprised
when I begin to cry and she still asks, 'Are you crying?!' or 'Are you
crying again?!'

Yes. Just yes. I'm crying. I might cry. I'm about to cry. It's a spiritual
gift? Curse?

I've read the John 20 text many times. So many times. Jesus'
appearance to Mary Magdalene and to the other disciples, too. To a
woman first. A woman who first shares the good news, 'I have seen
the Lord!'

In this text and in this season I am struck by the sense and splendor
of sight: Mary's eyes, the eyes of the disciples, our eyes. And Mary's
tears. I imagine Mary continued crying when she saw her Teacher.
Tears that release grief. Tears that rejoice in newness.

…

What has been taken away from you? What is being taken from our
queer siblings, especially our trans siblings and young LGBTQ+ kin?
What are you, what are we, taking from others or from Creation?

…

Do you sense something new in this season? Will you share with
others and will you join in shaping something new? We are invited
to share–we have a responsibility to share and to shape the beloved
kin-dom."
You can read the full devotion — and so many others — here. Parity offers a large devotional library, all free downloads for all of us.
Join AllianceQ at the beginning of the Easter season for a brief program followed by fellowship. This is a virtual event free of charge fostering connection + relationship, belonging + affirmation and so much love + grace.
Ashes Alive Community Gathering
Tuesday, April 11, 2023
5 p.m. PT | 6 p.m. MT | 7 p.m. CT | 8 p.m. ET
Bring a stone and a flower petal to the gathering! Not required but we hope you can find these elements to use during and after the event.
All registrants who provide their mailing address will receive some AllianceQ "spread love" swag and a plantable Colors of Hope bookmark.
Seed paper. Zero waste. Plantable bookmark with an inspirational quote from the Chalice Press devotional journal.