Gateway Open & Affirming Convocation Workshop
Embodying Our Faith and "Hoping in Color"
The devotional journal Colors of Hope draws upon the iconic Pride flag and raises a call to embody our beliefs. Using Gilbert Baker's original flag and its eight colors and themes—sexuality, life, healing, sunlight, nature, art and magic, harmony and serenity, and spirit—readers and workshop participants are invited to reflect, engage, and apply discoveries for personal growth and collective change. The book introduces "hope as resistance" and "art as activism." Join the book's editor to begin coloring every corner of our world with beauty, hope, healing, and love.
An Overview of the GONA Convocation Workshop
"Hope" and "Art" Word Walls
Write or draw in response to these words. What is hope? What is art?
"This is who I am!"
"Gilbert Baker created the original Pride flag in 1978 to spark courage in the LGBTQ+ community, offering a means of proclaiming, 'This is who I am!' In a world where discrimination and hatred range from shame and dismissal to physical violence, it takes hope and courage for LGBTQ+ people to be "out," to proclaim, 'This is who I am!'"
Before digging into "hope" and "art", "embodying our faith" and "hoping in color," let us to introduce ourselves. We don't need to shout, "This is who I am!" (You can!) but let's share our names, pronouns, place of residence, and (surprise!) favorite color.
Introductions
"Hope"
How did you describe "hope"?
In the Introduction to Colors of Hope, August Laperche writes, "Hope is an act of resistance, challenging and dismantling systemic injustices that rob people of wholeness and wellness–that deprive us of hope. It resists the depression and despair that swirl within us and around us. To hope is to imagine and shape a new reality: a brighter future, a more just and inclusive world."
What are your thoughts about "hope as resistance"?
"Art"
How did you describe art?
In the chapter on the color turquoise + themes of art and magic, Renair Amin writes, "The beauty–and sometimes the challenge–is that you decide what constitutes art. Critics and intellectuals and parents of small children have debated this for centuries…
The greatest artists evoke personal or collective change. Whether it was poet activist Audre Lorde breaking down walls of injustice or disco singer Sylvester redefining the binary, their art changed the world. Gilbert Baker included turquoise and art in the original Pride flag, highlighting the brilliance of LGBTQ+ art as activism."
What do you think about "art as activism"?
The original Pride flag and our own Pride flags
Download and/or print your own Pride flag.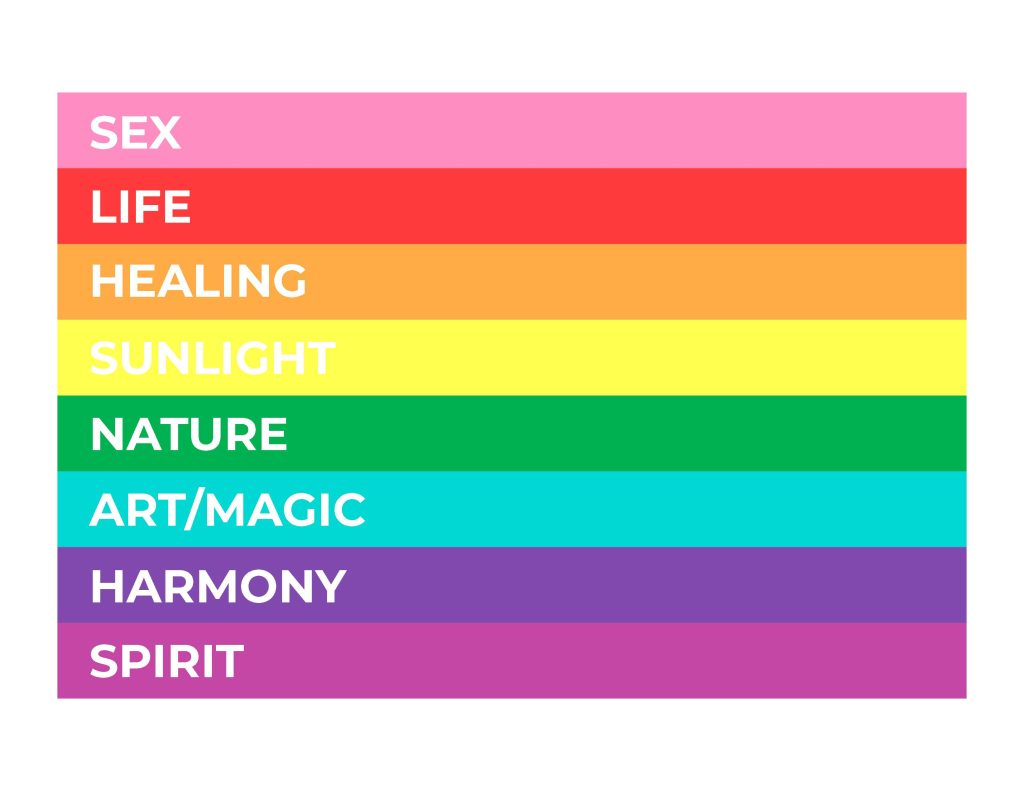 Write these questions next to each color and theme.
Pink + Sex: What's your relationship to queerness? What does desire feel like for you, physically? Do different types of desire feel different?
Red + Life: What gives you life?
Orange + Healing: Where or how do you need resolution, regeneration, repair, and restoration?
Yellow + Sunlight: What are you growing toward?
Green + Nature: How do you connect with nature? What distinctions do you hold between "natural" and "unnatural"?
Turquoise + Art/Magic: What's one way you experience creativity?
Blue + Harmony/Serenity: How do you practice self care and community care?
Purple + Spirit: How is the Spirit at work in your life?
Using the Pride flag and/or the devotional journal for personal growth and collective change
We think digging into or exploring the themes of the original Pride flag can prompt personal growth and collective change. The book offers "calls to action" for each color and theme. There are SEVEN calls to action for the eight original colors and the rainbow. These are ways to embody your faith. We are inviting you and your faith communities to:
WONDER
RESIST
EMBODY
CREATE
HOPE
STRETCH
SHARE
Does one of the prompts resonate with you? It's intriguing, inspiring or uncomfortable?
It's your turn to hope in color, imagining and shaping a brighter and more just future where the expansive love of God is embodied in every aspect of life.
Find Colors of Hope at most booksellers. Here from Chalice Press. Here on Amazon.
Q&A about the book, authors, AllianceQ or "hoping in color"
Benediction