Wake Forest Christian Church, NC, is Open & Affirming!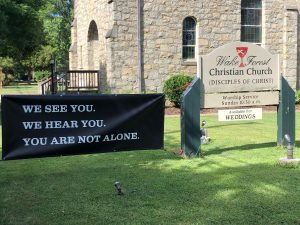 With great joy, we welcome
Wake Forest Christian Church
in Wake Forest, NC, as an Open & Affirming Ministry! With an intentional and ongoing process, WFCC became an Affirming Faith Group with the LGBT Center of Raleigh and on October 10, the church voted unanimously to approve its welcome statement and commit to financial support of AllianceQ. Rev. David Griffin said that every Sunday the church affirms, "We are a church who welcomes everyone. We think with mind and heart. Love is our creed. We honor all paths to the Holy." Their welcome statement can be found on their website. Thank you, Rev. Griffin, and WFCC for proclaiming your welcome and sharing God's all-inclusive love.
If your faith community is interested in resources for the welcoming journey — beginning this journey or deepening the commitment to Open & Affirming ministry, contact
Melissa@disciplesallianceq.org
. If your O&A ministry hasn't yet provided financial support for AllianceQ, will you consider a gift still this year? And–your gifts of advocacy, education and proclamation make a difference.