Thank you: Reflections from the EDM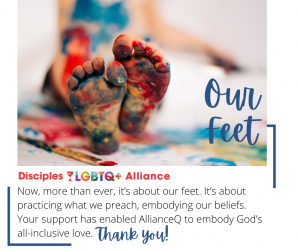 I always write to you and speak with you from the heart. Now, more than ever, it's about our feet. It's about practicing what we preach, embodying our beliefs. Your support – your financial support, your participation, creativity and creative gifts (of graphic design, preaching and speaking, teaching, serving, praying… the list is long!) your questions and challenges – all of this from all of you has enabled AllianceQ to embody God's all-inclusive love. Thank you!
Barefoot I write these words of reflection + invitation. Barefoot because I'm in my teal swivel chair at home. About one year ago I was barefoot in the sanctuary of the church with whom I served seven years; November 2019 began my journey as the Executive Director + Minister with AllianceQ. In my initial greeting I acknowledged the holy ground. I wrote of bridges and building. So, bridges and building. What holy ground have we covered (and uncovered!)?
It's been quite the journey.
In the coming weeks you'll hear from Council Members and Alliance members and friends. Each will share reasons why they stepped into this work. We will highlight the work and ministry you have made possible this year. And we'll invite you to continue journeying with us.
Our newly elected Moderator Rev. Luther Young says, "The time is now. The Lord has need of you." Read greetings and a call to action from the Moderator AND Vice Moderator Alysha Laperche here.
We celebrate 13 ministries with Open & Affirming anniversaries this month. We welcome Wake Forest Christian Church, NC, as a new O&A ministry!
With TransParent Day and Transgender Day of Remembrance (TDoR) this month, find trans and gender expansive worship resources here. Plan to worship with us on TDoR, November 20.
Finally, in what way is God transforming us individually and collectively? That's our focus for the close of the RIOT series. Join us Monday, November 23, with our General Minister and President Rev. Terri Hord Owens for "Transformation."
Will you continue to journey with us?
Because it's holy ground,
Melissa