Suicide Prevention and Safe Space Materials from The Trevor Project
"What could be more important than suicide prevention?" asks Dr. Johnston, Executive Director of GLAD's Open & Affirming Ministry Program. "I left my previous position as a psychologist, working primarily with LGBT people, many of whom had been bullied and attempted suicide, and began working with the O&A Ministry Program to work towards a generation where LGBT suicide is no more."
Dr. Johnston points out that we continue to hear stories of youth and young adults committing suicide because their families and communities don't affirm them, attitudes usually learned from religious institutions.
The Trevor Project focuses on crisis and suicide prevention efforts among lesbian, gay, bisexual, transgender and questioning (LGBTQ) youth. Available on the site are excellent online resources for educating adults and youth.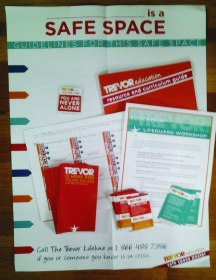 The Trevor Resource Kit is set of materials to create a safe space and a safe community for LGBTQ Youth.
The center of the Resource Kit is a curriculum guide full of empowering tips, activities and information for adults who work with young people. This tool includes collaterals on The Trevor Project's life-saving resources, group activities, worksheets and more to help youth constructively discuss suicide and build empathy for the issues facing many LGBTQ people.
The Kit also includes wallet size cards and safe space stickers to increase awareness of the Trevor Project, small but powerful pamphlets to educate and inform adults and young people about LGBTQ suicide prevention, 'care cards' for youth at risk, a poster for creating your own safe space guidelines, and more.
"I pray and work for the day when The Trevor Project is no longer needed," Dr. Johnston tells us. "In the meantime, I thank God that The Trevor Project is there working with us."
The Trevor website also hosts the Trevor Lifeguard Workshop. Check it out!