News from AllianceQ: April 2020
Resources for the ministry of welcome in this landscape
God's love is boundless and boundary-less.
But we or some of us or some of our resources and tools are limited. The typical means are unavailable. Those of who are are LGBTQ+ have the gifts and experience to imagine and re-imagine ways of being and being together. We typically don't do things the typical way.
And so we re-imagine our worship experiences and social connections. With all the room we have between us, there's room for experiencing and acknowledging and honoring the holy in unbounded, abounding ways.
---
Building an Inclusive Online Worship Experience offers strategies for living out LGBTQIA+ welcome in your online worship experiences. Created by AllianceQ with welcoming church partners.
The Online Faith Collective and Virtual Pastor Network from Parity includes links to LGBTQ+ friendly worship experiences and the opportunity to connect with a virtual pastor or volunteer to be a virtual pastor. AllianceQ Executive Director + Minister Melissa Guthrie Loy is featured in this project.
What LGBTQ+ communities need to know: AllianceQ is working with the National LGBT Cancer Network and GLMA to address the LGBTQ+ communities' increased vulnerability for the virus and outline a series of strategies for all parties handling surveillance, response, treatment, and media coverage to reduce further stigmatization of vulnerable groups.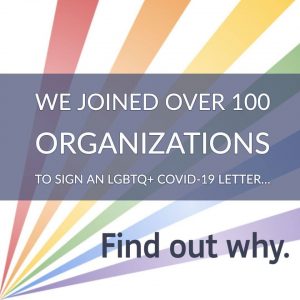 The general ministries of the Christian Church (Disciples of Christ) are working together to support congregations through the upheaval caused by the COVID-19 pandemic. Here are general resources for congregations during the COVID-19 crisis.
Among those resources, "Telling the Easter Story in Color."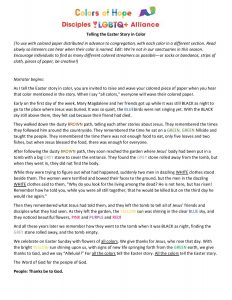 A virtual worship map on Disciples Home Missions' Well Fed Spirit website. Note: this map does not identify O&A churches although many of the faith communities are open & affirming. This tool allows you to find a Disciples of Christ O&A ministry.
The invitation to "hope in color," to look at the world and engage with the world through a new lens, through color. Colors of Hope is an eight-week series that features thought-provoking and reflection-oriented inspirational messages and practices. The series invites us to experience the divine and all of creation through refreshing practices that require little or no online activity. What does hope look like in our changing landscape? What color is hope?
Find everything you need to know about the Colors of Hope project here.
---
AllianceQ is available to journey with you in this season. Are you in the process of becoming O&A? You can continue the process. Do you need suggestions on living into your welcome in this landscape? Contact us.
Stay tuned for resources and reflections on mental health + queerness. April is Mental Health Awareness Month and we're excited to share an interview with Dr. Joretta Marshall, Professor of Pastoral Theology and Care at Brite Divinity School plus a reflection and resources from Disciple Dr. Amy Spangler-Dunning of Magnolia Counseling.