News from AllianceQ: March 2020
Open letter about coronavirus and LGBTQ+ communities
A note of love and light: for whatever you are carrying, for whomever you are concerned, for you.
The Alliance joined over 100 other organizations as signatories of a national open letter about coronavirus and the LGBTQ+ communities.The letter, organized by the National LGBT Cancer Network and GLMA, addresses the LGBTQ+ communities' increased vulnerability for the virus and outlines a series of strategies for all parties handling surveillance, response, treatment, and media coverage to reduce further stigmatization of vulnerable groups. The open letter with the full list of signatories is available here: https://cancer-network.org/coronavirus-2019-lgbtq-info/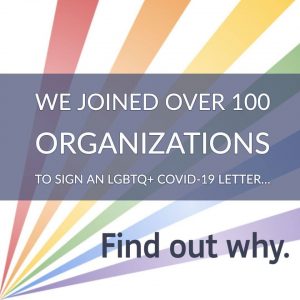 We will be posting a list of online LGBTQ+ friendly services for worship. If your faith community has such a service, please post the info in comments. A focus for the month is membership + belonging. Everyone will be experiencing a physical disconnect. However it feels right for you, will you remind your friends and neighbors that we can belong and experience community and support community–and support the growth of O&A faith communities–across time and space?
Many are offering prayers and litanies in this season of uncertainty. Many are extending the invitation to sabbath and (re)connection with creation. May you find what is right for you and may you care for neighbors, every neighbor. Blessings to you as you care for others and yourself. Be responsible. Be well.