News from AllianceQ: June 2020
June featured events
Opportunities this month for learning, informal conversation, worship through resistance and fundraising. Plus events from our partners in ministry.
---

"From the tables in our churches to the Supreme Court benches," a Disciples Just Summer event with AllianceQ
Thursday, June 25, 12 p.m. CST
Part of the Disciples Just Summer series, AllianceQ hosts this Facebook Live event to share info about our ministry and how individuals can join in our work of widening welcome at the table. In preparation for this event, AllianceQ is collecting photos of your tables. Members and friends, 
email us
 a picture of your dining table. Clergy, please also send a pic of your congregation's communion table. 
All event info here.
---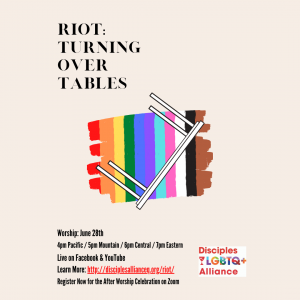 "RIOT: Turning Over Tables"
Sunday, June 28, 6 p.m. CST
As we remember together that Pride is rooted in the bold resistance of trans women of color at Stonewall in 1969, we remember that Pride is about resistance. We will name our history by confessing the ways in which Pride has been too often co-opted by white voices, by celebrating leaders like Marsha P. Johnson and centering LGBTQIA+ voices of color, and by considering the ways in which God's spirit is inviting us to turn over all tables of injustice as we make our way to our seat at Christ's table. (Free) registration and event info here. Registration will provide you with information on how to join in the virtual worship service and after-party. Flyers for distribution here. Artwork by Nathaniel Cook.
---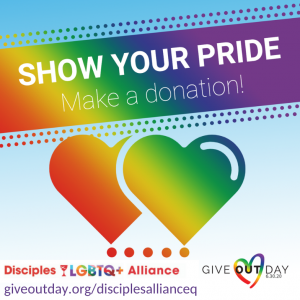 Give OUT Day 2020
Tuesday, June 30, all day
Alongside LGBTQ+ organizations across the country, AllianceQ seeks to raise funds to sustain and expand our work on GiveOut Day 2020. Will you give above and beyond your membership? Will you give so AllianceQ can deepen its work at the intersection of our many identities, especially for Black LGBTQ+ lives? 
A gift can be made anytime during the month of June
 with a special emphasis on fundraising on June 30. 
Click here to participate and give.
Who in your family, church, neighborhood or group of friends can you invite to give to AllianceQ today?
---
from ministry partners and friends

Closet Conversations with Luther Young
Matters of gender and sexuality are a hot topic in today's society. Although many have strong opinions, there are not enough opportunities to have discussions about gender roles and human sexuality without judgment and condemnation.
The #ClosetConversations series is designed to provide a space for people, regardless of where they stand on these topics, to come together and engage in an open dialogue. The primary goal of this series is not to convert anyone's perspective, but rather to broaden our awareness and understanding of gender and sexual orientation. In addition, we will discuss how these issues impact the lives of LGBTQ+ people. AllianceQ Executive Director + Minister Melissa Guthrie Loy will contribute to the June 29 conversation.