Hyattstown Christian Church in Maryland renews its O&A commitments
Hyattstown Christian Church (Disciples of Christ) installed its new pastor, Rev. Monica Banks, on November 15, 2020. With renewed commitments to its Open & Affirming identity, Hyattstown invited AllianceQ Executive Director + Minister Rev. Melissa Guthrie Loy to preach as part of Monica's installation.
Guthrie Loy prayed:
"Wonder-full God, God both near and far, we near and far offer our prayer to be seen, known and loved. Different and many, we are one body. We pray today and always to be an embodiment of love, your love. We affirm divinity in difference, we affirm every body, we give thanks for the divine gifts of Monica Banks and the entire body of Hyattstown Christian Church and the Christian Church Capital Area.

Searching the ancient words of Psalm 139, may our valuable traditions be renewed and may we find a newness of old. May we be full of wonder, aware of God's active presence all around us. May we search, may we seek to be people of God sharing the light of God. May God lead us in the way everlasting. Amen."
Rev. Banks has been instrumental in the church's renewed commitments and its embodiment of welcome. Monica has a gospel-centered focus of Table and Hospitality.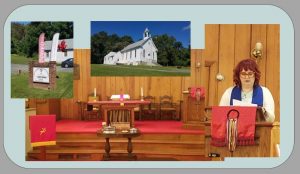 The church professes:
"Hyattstown is an Open and Affirming congregation. This means we welcome into the full life and ministry of the church all people, regardless of ability, age, education, ethnicity, family or marital status, gender identity or expression, socioeconomic status, nationality, political affiliation, race, sexual orientation, or any other distinction. From baptism and at the communion table, from the nursery cribs to the church leadership, whether you were raised in a church or have never before attended one, you are welcome here."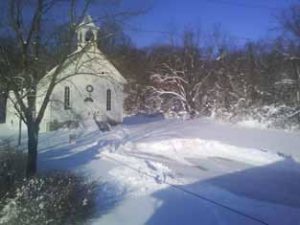 Board Chair and Elder Debbie Blair describes the church's journey:
"In 2015 we began working with Hope Partnership and went through their New Beginnings process and training. As part of that work, we explored our beliefs, our talents, and our desire to focus our mission on the needy and marginalized. Many in our congregation have family members in the LGBTQ+ community. In 2016, members attended the "Building an Inclusive Church" training at National City Christian Church in Washington DC. [We] held education sessions with members of our congregation. Our New Beginnings process included writing a Future Story for our church that highlighted what we expected our church to become within five years. This story included being officially Open & Affirming. Our work was paused as our pastor was called to another church and we had an interim pastor for three years. However, during that time we presented our Future Story to the board and congregation for a vote, which included becoming an official ONA church. The board voted to become O&A on November 18, 2018, ahead of the Search & Call Process. The congregation voted unanimously to become O&A on December 2, 2018. Our Search & Call Process included a summary Future Story that highlighted this. Since calling our new pastor, Rev. Monica Banks, we have drafted our Open & Affirming statement as well as our employment non-discrimination policy. Both of these statements have board and congregation approval via e-mail due to the pandemic. The board and congregation finalized approval on November 15, 2020."
Hyattstown, thank you for your ministry. May you continue to live into your open & affirming identity.
If your faith community is interested in resources for the welcoming journey — beginning this journey or deepening the commitment to Open & Affirming ministry, contact Melissa@disciplesallianceq.org.
Virtual Building an Inclusive Church Trainings happening now
A Building an Inclusive Church (BIC) training helps you design and implement a journey for your faith community to publicly and intentionally welcome people of all gender expressions and sexual orientations. The training empowers congregations to create a grace-filled process towards becoming Open & Affirming, a process uniquely designed for the needs of each community.
Using the Building an Inclusive Church Toolkit, you will be equipped to deepen relationships throughout your faith community rather than spark debate or division. The Toolkit is an ecumenical resource with best practices, in its third edition developed by numerous Welcoming Church partners. Full details and training dates here: http://disciplesallianceq.org/bic-trainings/