Happy O&A Anniversary to these ministries!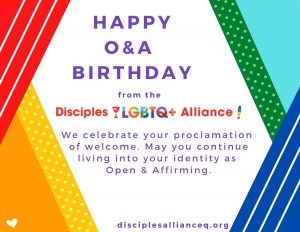 Celebrate these O&A ministries with an October anniversary of living out a wide, radical welcome of all:
​
Foothills Christian Church (Glendale, AZ) October 1
First Christian Church (Des Moines, IA) October 2
Missiongathering (Thornton, CO) October 4
Bixby Knolls Christian Church (Long Beach, CA) October 8
First Christian Church (Greensboro, NC) October 8
Disciples Peace Fellowship (Indianapolis, IN) October 9
Disciples Justice Action Network October 9
Parkview Christian Church (Little Rock, AR) October 10
First Christian Church (Anniston, AL) October 15
Abbey Road Christian Church (Cape Girardeau, MO) October 25
Memorial Boulevard Christian Church (St. Louis, MO) October 26
We celebrate your proclamation of welcome. May you continue living into your identity as open & affirming.
Would you like information about open & affirming ministry? Wondering how to engage the process in this landscape? Have an update to a church name or address? Contact alliance@disciplesallianceq.org.
Watch this introductory video:
You can find more resources for the welcoming journey here.
WHY is it important to proclaim your open & affirming welcome? Read "Say what you mean, mean what you say: why and how O&A."