News from AllianceQ: June 2018
Goodbye and Hello to Dan Adolphson
Rev. Dan Adolphson has served on the Alliance Council for the past 5 years and as our Council Moderator for the past 3 years. He has worked hard, accomplishing both visibly and behind the scenes, and often both.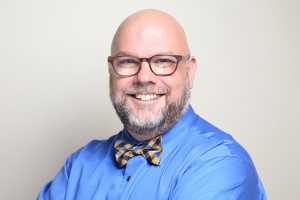 Dan has encouraged the Council to focus more on leadership and empowering the members of the Alliance. This has resulted in the revitalization of our Pastoral Care and Education Team and the initiative to create Regional Open & Affirming Ministry Teams.
Behind the scenes, Dan has led the effort to update our Policy and Procedure Manual for the first time in 11 years.
Dan has also led the renewal of the Alliance's commitment to intersectional justice. Today, our council is more diverse than ever, our relationships with other Disciples justice ministries stronger, and our involvement in inter-racial justice issues is growing.

Dan Adolphson at the 2013 General Assembly.

And perhaps most visibly, Dan led the Alliance to a new name, no longer the GLAD Alliance (Gay, Lesbian, and Affirming Disciples Alliance), but now the Disciples LGBTQ+ Alliance. The name GLAD served us well for many years, but even we must be vigilant of the need always to be more inclusive.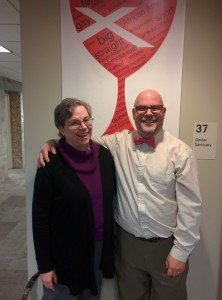 However, after this month's election, Dan's term on the council ends. We wish him a fond farewell.
And – we say hello!
Dan has offered to serve the Alliance as Development Team Leader, and the Council has gratefully accepted his offer.
Rev. Robert Shaw, Council Member, retired Disciples pastor, and now liaison to the AllianceQ Development Team, has this to say about Dan: "Dan clearly has a great deal of training and experience in this field, as well as a successful track record. This, along with his passion for GLAD and now AllianceQ make him, in my judgment, a perfect fit for this position."
Dan's background in non-profit management and fundraising makes this an easy choice.
Dan entered full-time ministry in 2014 and is currently Associate Pastor at First Christian Church, Minneapolis, MN. Prior to entering ministry, Dan served for 7 years as Director of United Arts Fund, Minnesota's only workplace-giving fund for the arts, raising $1.5 million for a variety of arts organizations focusing on community arts and arts in education. Additionally, he was the manager of the COMPAS Travelers Arts & Diversity Grant Program, a 21 year-old program that funded diversity education for Travelers employees and funding to arts organizations working in diverse communities, arts education and youth. Dan also currently serves on the Downtown Congregations to End Homelessness Development Committee in Minneapolis.