Glitter+Ash Wednesday
Many of us will bear the sign of the cross on February 26. Some of us will bear glitter + ashes.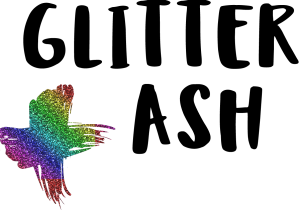 While not specifically endorsed by AllianceQ, we're glad to share news about and resources for Glitter+Ash Wednesday. If you participate in Glitter+Ash Wednesday, let us know. Send us pictures.
The following info comes from a press release from Parity, a faith-based organization headquartered in NYC that creates open and nurturing spaces where LGBTQia people can reconcile their identities and faith.
"For the fourth year, pro-LGBTQ Christians across the country will "come out" on Ash Wednesday, February 26, 2020, as part of #GlitterAshWednesday.
We have been amazed by the number of people who relished the opportunity to 'come out' as LGBTQ and Christian, and for the scores of churches that wanted to share their love for people who far too often are told that God doesn't love them because of who they are or who they love.
Ash Wednesday marks the beginning of Lent, a 40-day season of self-reflection and preparation for Easter. The imposition of ashes on the forehead, a traditional practice that "marks" believers with the sign of the cross, takes place in Christian churches and communities worldwide, as well as in parks, commuter rail stations and other public spaces. In addition to offering the traditional ashes, participants in #GlitterAshWednesday offer ashes mixed with purple glitter, combining a symbol of repentance with a message of solidarity.
The Rev. Elizabeth M. Edman, who conceived and co-organized Glitter+Ash 2017, said, 'Ashes are a bold, public statement that death and suffering are real.  Glitter is a queer sign of hope and of our promise not to despair even in difficult times.'
The Rev. Jen Hibben, United Methodist minister and campus pastor of Iowa State University, remarked: 'Glitter ashes gave us a visible tangible way to do and be church in the midst of our communities. Last year the opportunity to offer something as meaningful and simple as ashes, to folks who had felt they had to give up that part of themselves, was the definition of a sacred moment, a true expression of the power and purpose of the church in the world."
Parity has made available a range of resources, including ordering glitter ashes, church and street liturgies, event ideas, theological talking points and a how-to on making glitter ashes for faith communities interested in participating in #GlitterAshWednesday. These resources are available without charge at Parity.nyc."