First Sunday of Christmas: Virtual Pulpit Supply from Rev. Melissa Guthrie
The First Sunday of Christmas… perhaps weary and worn from the journey to the manger or joyful and (still) energetic, we invite you to use our Virtual Pulpit Supply resources on December 26.
Featuring our Executive Director + Minister Rev. Melissa Guthrie, Virtual Pulpit Supply includes a scripture reading, sermon, and sending forth. Rev. Guthrie preaches on Luke 2:41-52.
Request Rev. Guthrie's scripture reading, sermon and sending forth here.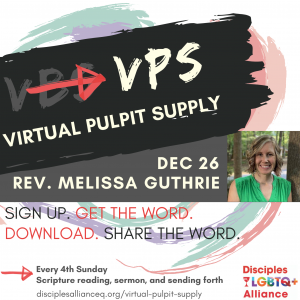 How does Virtual Pulpit Supply work?
VPS is offered once a month for the lectionary text assigned to the fourth Sunday. To sign up for the December materials or any previous materials, fill out this VPS request form.
By 5 p.m. ET on the Monday before the assigned date, you will receive an email with a link to download a video containing the scripture reading, sermon, and sending forth. If you request previous months' materials, your downloads will be sent within 2-3 business days. While drawing from the lectionary texts, you are welcome and encouraged to download VPS materials at another time in the month if it works better for your ministry.
How much does it cost?
There is no cost to download the VPS materials. However, to sustain this ministry, we ask that you consider making a donation to AllianceQ. You can support the Virtual Pulpit Supply project and donate here.
You may also mail a check to: Disciples LGBTQ+ Alliance, P.O. Box 44400, Indianapolis, IN 46244 with the memo "VPS."
Full details on VPS, previous months' preachers and themes
About Rev. Melissa Guthrie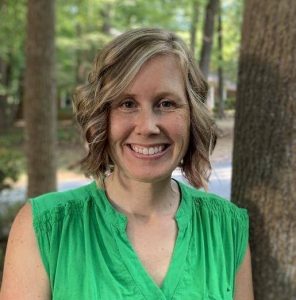 Melissa (she/her) is the Executive Director + Minister with AllianceQ and the founding director of Salvage Garden. She created "The Banquet: A Sensory Worship Experience," centering disabled individuals. Melissa is trained in faith-based nonprofit leadership through Wake Forest University. A Wartburg College alumna (Waverly, Iowa), the Spirit moved Melissa to North Carolina to teach high school English as a corps member with Teach for America. She completed her M. Div. at Wake Forest University School of Divinity (Winston Salem, North Carolina) and is an ordained minister with the Christian Church (Disciples of Christ). Melissa and her wife Leah live in Greensboro, North Carolina, with their children and a small zoo.
Request Virtual Pulpit Supply now.
Will VPS continue in 2022?
Yes! And VPS is more than a sermon. 2022 VPS materials will include conversation starters + calls to action. While many congregations have resumed in-person worship, our recorded messages provide a package for use in a range of contexts. Conversation starters + calls to action provide all you need for group or personal study. Integrate VPS in your faith formation and spiritual practice. Watch for the roster of 2022 preachers.
And this:
If you are interested in being considered as a featured preacher, complete this VPS interest and referral form. Do you want to recommend someone? Complete the same form. We look forward to discerning potential collaboration as we call the Church to justice and inclusivity.