Disciples AllianceQ Presence at Convocation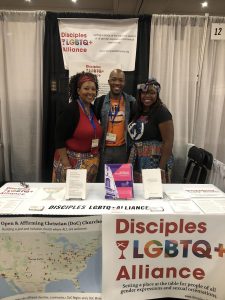 This July, AllianceQ was present at the National Convocation in Montgomery Alabama. Three members of the AllianceQ Council attended: Darnell Fennell, Tana Roseboro, and Whittney Ijanaten. Upon their return they shared how their presence was and important witness.
Whittney Ijanaten preached as an Emerging Voice of the Convocation and told the Convocation that "Not all of our people feel safe" – even at the Convocation. She clearly called out the need to name the injustice of homophobia – among other intersectional justice issues – and named that it is time to include gay, lesbian and transgender brothers and sisters in our people. You can see the video of that sermon here.
Darnell has this to share about his presence at the Convocation:
The ministry of presence is often overlooked, as being present often feels like nothing substantial is being done. Last month I had the opportunity to be present for the Convocation 25th Biennial Session. During this experience, I represented the Alliance at our table bearing witness to the radical of love of God. In addition, I was tangible witness as a Black clergy person wearing my Alliance shirt to worship, banquets and workshops. It was honored to be fully present in the room, I am confident that this ministry has impacted our church in ways I may never know.
And Tana shared this reflection on her experience with us:
The 25th Biennial National Convocation of the Christian Church (Disciples of Christ) was my inaugural introduction to this expression of worship, training, and leadership. Many initial visitors expressed how they were glad to see the Disciples LGBTQ+ Alliance hold space at the convocation. My disappointment was that nearly all of these well wishers held membership at predominantly Caucasian churches which were already Open and Affirming (O & A). Only a couple were from predominantly African American congregations, and they were not O & A. However, I am grateful for the opportunity to hold space for all of the questions and prayer requests that did come through. One of my discoveries is that many of our African American Elders (60+) need a safe space to ask all of the uncomfortable questions they have. Many wanted clarity on terms, or to understand the appropriate reason and language of the letters. With all of these things considered, I was most inspired by our own Emerging Voice, Rev. Whittney Ijananten, who spoke with a clear resounding, echoing voice that the National Convocation had left the LGBTQI+ communities off of the ballot, per se, and initiative of identifying injustices that we are called to action to address. This was a great direct, concise push for opening the doors, however, there must be an intentional action to not just open the doors wider, but to tear them down, and to keep clear lines of communication flowing.