Come Out: Love discriminates against no person
Come out. Affirming the Light within you, be your whole, holy self. Bring to the light that which your community–all of our communities–must confront, denounce, or heal. October 11 is National Coming Out Day. At the start of this month, the Disciples LGBTQ+ Alliance denounced the call of two Supreme Court justices to overturn marriage equality.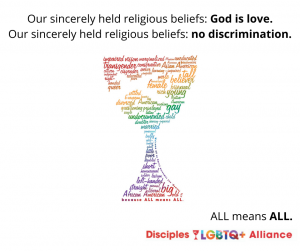 You're invited to use these National Coming Out Day resources created by Rev. Tyler Heston. Originally published in 2018, Tyler provides worship resources and resources for and about "coming out."
Let us pray
God who breathes life into each of our bodies,
You speak creativity into chaos,
and all that you make is good.
We are made in your image,
bearing your grace, your peace,
and your love.
We are created by you, our creator,
to go out and to create—
wholeness where things are fragmented,
harmony where things are out-of-tune,
peace where there is strife,
and love where there is hatred.
Forgive us, God, for the places in which we
have not embraced this call.
Forgive us for the fragmented identities,
the dissonance between us and you,
the strife we have placed on others,
and the hatred we have failed
to put to an end.
As Jesus confronted people around him
when they had twisted your call
into something it was not—
flip over the tables of our heart,
and let us see the simplicity of your
all-embracing love.
God who is present with all people—
Lead us and unite us in your Spirit,
who mends together things that are broken.
Send us forward with your radical love—
a love that discriminates against no person,
a love that celebrates the abundance of ways
that we humans, your creation,
walk and love and live.
Hold us together with your radical love—
when we are despised for our difference
or when we don't know what to make
of the difference of another.
Shine through us with your radical love—
so that we, your people,
may form a mosaic made in your image,
where beauty, hope, healing, and love
color every corner of who we are.
Amen.
About National Coming Out Day
National Coming Out Day is October 11, a day that encourages public awareness and celebration of minoritized sexual orientation and gender identity. Many take the idea to remember their own coming out story, and some choose to come out publicly for the first time on National Coming Out Day. This day challenges Christians to ask themselves how they are building spaces that don't just tolerate but fully welcome and celebrate minoritized sexual orientations and gender identities, especially in a world in which many lack a safe space to "come out." May we extend the welcome of Christ, who
says, "Come to me, all who are tired, weary, and worn, and I will give you rest."
The Trevor Project's resource guide to coming out can be found here. 
Find all the worship resources + information here.
In honor of National Coming Out Day, the Disciples Seminary Foundation co-hosted two webinars with AllianceQ: LGBTQIA+: Deciphering the Alphabet Soup (especially if you're too embarrassed to ask) and Can Paul Be An Ally? Reclaiming the Apostle from Misogyny and Homophobia. Click here for these recorded webinars.
Though we are many, we are God's children. We are beautiful in the colors we express of God's love.
About the Welcoming Journey
Becoming and being an Open & Affirming Ministry is a journey of ever-expanding welcome. Every ministry can travel this journey and there are resources for every step along the way, from the congregation that hasn't thought about the welcome of LGBTQ+ persons to the congregation that named itself Open & Affirming decades ago. Resources here or contact AllianceQ Executive Director + Minister Melissa Guthrie Loy.
About Tyler Heston
Tyler concluded his service as a Council Member at the end of September 2020. This webpage honors his leadership and service. Please read about the gifts of Tyler Heston.