News from AllianceQ: April 2020
Colors of Hope: Refreshing practices for here + now+ tomorrow
Hope in color with us, with the eight colors from Gilbert Baker's original Pride flag.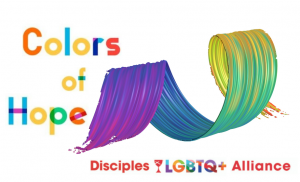 Colors of Hope is an eight-week series that features thought-provoking and reflection-oriented inspirational messages and practices. In light of the COVID-19 pandemic and life's ongoing challenges, with a surge of digital content and an increase in screen time, Colors of Hope invites us to experience the divine and all of creation through refreshing practices that require little or no online activity. What does hope look like in our changing landscape? What color is hope?
---
Click here to go directly to each week's color, theme, reflections + practices.
---
Gilbert Baker's life story, like that of the gay rights movement, is one of resilience and transformation. Read more about resiliency in April's mental health articles…and remember that you are resilient.
Baker wrote about his creation of the flag during the 1970s: "As a community, both local and international, gay people were in the midst of an upheaval, a battle for equal rights, a shift in status where we were now demanding power, taking it. This was our new revolution: a tribal, individualistic, and collective vision. It deserved a new symbol." In the midst of COVID-19's upheaval, we can individually and collectively hope in color.
According to Baker, the rainbow flag expressed joy, beauty and power. "We're an ancient, wonderful tribe of people. We picked something from nature. We picked something beautiful. The rainbow's in the Bible. It's a covenant between God and all living creatures."
The original design had eight stripes: pink stood for sex, red for life, orange for healing, yellow for the sun, green for nature, turquoise for magic, blue for harmony and purple for spirit. Of course the first color is hot pink with the theme of sex…don't miss week one or four or seven or eight. Don't miss a single week! But also, live into this invitation as it serves you in the space in which you find yourself.  Another reminder: you are not alone. Apart from others, yes. Not alone.
Every Monday you'll be invited to

What one word or theme would you assign to this color? Why? Where do you see this color within your home and outdoors? With what song or genre of music does this color connect? What memory does this color bring to mind? What action does this color bring to mind?
Every Tuesday we are invited to

Listen to a short podcast presented by a LGBTQ+ Disciples of Christ leader. We're excited to feature the voices of clergy and seminarians who add color to our world. Each podcast explores a text from the Revised Common Lectionary. The stories and perspectives will enrich your week.
Every Wednesday: the invitation to

What might you do to embody hope as it relates to this week's color and theme? Pray in color. Walk. Dance. Journal. Bake or cook. Paint. Garden. Play…
Thursday: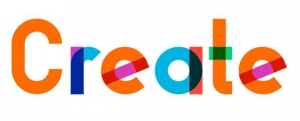 Compose a poem. Make art. Take pictures. Sew. Stitch. Crochet. Bake. There's an overlap with the invite to embody this color and theme. Is there something you can create as a result of yesterday's embodied practice?
Friday: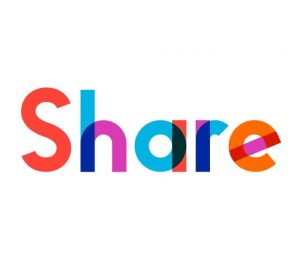 Share with us and the AllianceQ community. What made you wonder? In what ways did the scripture and podcast engage you? How did you embody this color and theme? What did you create? We are excited to hear and see it all! Send material to melissa@disciplesallianceq.org. By submitting your material, you give permission for Disciples AllianceQ to publish all or portions of the content with attribution.
AllianceQ offers the invitation to take in all the colors all around us. Hope in color. Hope here and now as we also hope for tomorrow. Hope for wellness and wholeness and the in-breaking of God's kin-dom. It's an expectant, engaging practice and process, this hope. May we see and feel and taste and touch and hear hope within us and around us and between us.
AllianceQ Executive Director + Minister finds hope in stones and flower petals. On grey days and mixed up days, she leans into the promise of new and renewed life. Read "Stones, flower petals + new life" here.

May the God of hope fill you with all joy and peace as you trust in God, so that you may overflow with hope by the power of the Holy Spirit. -Romans 15:13
***
Baker quotes from "The History And Meaning Of The Rainbow Pride Flag" and "Rainbow flag maker was inspired by Bible, U.S. flag."