Candidates for AllianceQ Council
Belen De La Trinidad, nicki arnold-swindle, and Sergio Centeno have been nominated for election to the AllianceQ Council. It was our goal to find excellent candidates for the Council who would bring us more racial and geographic diversity. Read their biographies below, and we think you will agree that our Nominating Team succeeded!
With much thanks to our Nominating Team for their good work: Council Members Whittney Ijanaten and Alanna Hunter-Crump, along with Alliance members Hector Hernandez, Paul Tche, and Tanya Tyler.
Belen De La Trinidad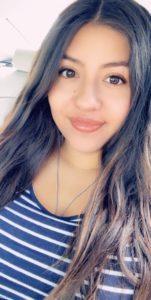 Belen De La Trinidad has been serving at Iglesia Cristiana de Este de Whittier/East Whittier Christian Church (EWCC) for the past 10 years, starting in the choir ministry at age 14, now 24years old is an active church leader with EWCC. Now, an active member of the PSWR, Belen is involved in Youth Immersion Ministry (YIM), Young Adult Ministry (YALL), PSWR Camp Committee for Loch Leven as a board member, La Obra Now, as well as participating in a DOC Regional role as a Young Adult Commission (YAC) with Disciples Home Mission.
Apart from actively working with her home church and region, Belen works full time for the City of Los Angeles Department of Water and Power as a Senior Administrative Clerk. And, has also been attending Cerritos Community College to obtain her AA in Business Administration.
Belen continues to show up at the table in every she can, by being a part of the PSWR and working with youth and minority groups, she hopes God continues to lead her to break down barriers and open conversations for all God's people.
nicki arnold-swindle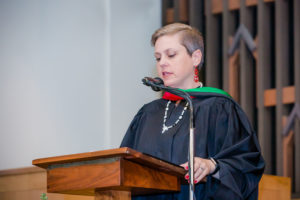 nicki arnold-swindle (she/her) is a chaplain candidate and the only female and only open-and-affirming member of the Chaplain Corps in the Alabama Army National Guard, the Community Family Life Minister at First Christian Church in Anniston—which she led to become open-and-affirming in October 2017, and has been a member of the Disciples LGBTQ+ Alliance since shortly after becoming a Disciple in 2016, participating as part of the Pastoral Care and Education Team. nicki became a Disciple because being open-and-affirming in her ministry was very important to her, and she felt drawn to become a part of "the movement for wholeness in a fragmented world." She sees sin as brokenness in relationship up, out, or in and feels that sin has been perpetrated by dominant groups in Christianity against marginalized groups throughout history and that there is a lot of reconciliation, reparation, and healing that needs to be done. She is currently working on finishing her Certificate in Sexuality and Religion from the Pacific School of Religion and is studying how dominant Christian beliefs about sin (hamartiology) harm LGBTQ+ people and communities. nicki is a 2018 MTS graduate and 2019 MDiv graduate (pending conferral) of PSR. She has bachelors degrees in political science and social work from Jacksonville State University in Alabama. nicki was a candidate for state representative in Alabama in 2018 and has advocated for social justice in her home state since 1997 because she truly believes that none of us are free until all of us are. nicki and her spouse, Jeff, have six children, with half of their family identifying as members of the LGBTQ+ community.
Sergio Centeno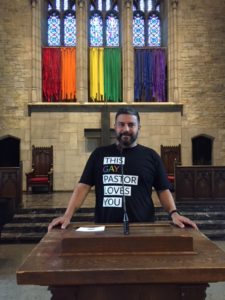 Sergio completed his Master of Divinity at McCormick Theological Seminary in 2014. He graduated from the University of Puerto Rico, majoring in Humanities and Fine Arts. Sergio is a fine artist, freelance art director, a pastor, a worship curator, faith educator, and a community organizer. He worked for the World Council of Churches as the 50th Anniversary Creative Director as well as several worldwide advertising agencies as a Senior Art Director and Senior Designer. He currently works in a detention facility for unaccompanied children and he is a planter for Table of Grace a new LatinX Congregation in the City of Chicago.