Bodies Matter: Reflections from the EDM
"The reality is that we are bodies born of other bodies, bodies feeding other bodies, bodies having sex with other bodies, bodies seeking a shoulder to lean or cry on… Bodies matter…"
Frans De Waal, Our Inner Ape
Bodies matter.
My grandmother Gladys, her body was always frail. As a young child I knew Grandma Gladys was sick. I enjoyed spending weekends at her home. We would play cards, Skip-Bo, a game I still enjoy today. On Sunday mornings we met my family at church; Grandma Gladys always slipped me butterscotch candies, lots of them. I thought she was spoiling me; years later my parents pointed out she was keeping me quiet! Anytime I taste or even smell a Werther's Original, I remember my grandma Gladys.
Who are you remembering this time of year?
Our bodies remember joys and pains.
At age 10, during one of my weekend visits, I discovered my grandmother's body seizing on the floor near her bed. That memory lives not just in my mind, but in my body.
"There is deep wisdom within our very flesh, if we can only come to our senses and feel it."
Elizabeth A. Behnke
Bodies matter and I will be presenting different bodies of work and research—academic, theological, pastoral—for training and development of AllianceQ leaders and members. You are invited to journey with us as we re-member our minds and bodies.
Re-membering is a practice suggested by Resmaa Menakem, MSW, LICSW, SEP, who authors My Grandmother's Hands: Racialized Trauma and the Pathway to Mending Our Hearts and Bodies. The book is a call to action for Americans to recognize that racism is not only about the head, but also about the body.
This particular book is particularly important right now. It's important for the leadership of AllianceQ, the whole of our denomination, our country.
Every body matters.
Our work to build a more just and inclusive church for people of all gender expressions and sexual orientations must embrace all people and all aspects of identity.
I've barely bent open the cover of Menakem's book. It's already convicting and inspiring. What are you reading right now? Want to read My Grandmother's Hands with us?
Consider reading alongside us. We'll share more and we'll seek your input. The Alliance is actually seeking financial resources to increase the number of individuals we can support and send to the Racial Justice Institute as part of The National LGBTQ Task Force's Creating Change conference in January in Texas. (Maybe you can give a small gift?)
Across the country, we are participating in the Poor People's Campaign "We Must Do M.O.R.E. National Tour."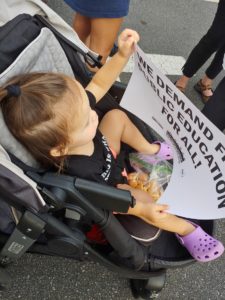 My wife and toddler and I marched in Greensboro, NC; well, the toddler strolled. She also danced during the worship and mass meeting. Some of the marchers carried signs about racial equality. Some about education. Fair wages. Immigration. This is all important. These intersections matter as we work together in our movement for wholeness.
As we work together, who is inspiring you? How are you engaging your mind and your body?
We are deeply grateful that you are a part of this body, AllianceQ. May we honor our whole selves and may we deepen our efforts to engage our minds and bodies as we embrace every body.