News from AllianceQ: March 2019
AllianceQ Presence at Black Ministers Retreat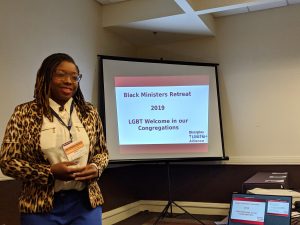 Rev Whittney Ijanaten, Rev Tana Roseboro, and Rev Darnell Fennell, all members of the AllianceQ Council, along with Mark Johnston, Executive Director of the AllianceQ Open & Affirming Ministry Program, were present at the Black Ministers Retreat in Nashville, TN, last week. Whittney, Tana, and Darnell presented two sessions of a workshop at the retreat. The theme of the retreat was "Be Bold" and the title of the workshop: "Be Bold- Talking about LGBTQ Welcome in our Congregations." Below are Whittney's reflections on her experience at the retreat.
Excitement, anxiety, curiosity, and a plethora of other feelings boosted up my adrenaline around the Black Ministers Retreat in Nashville, TN this past week. Located in the music city and speaking to rooms filled with ministers, our team rightfully opened our LGBTQ+ workshop with a song. We chose to congregationally sing Hezekiah Walker's gospel hit, "I Need You to Survive" (please find the inclusive lyrics below). The words were a perfect thread of connectedness because it allowed for peace, calm, and the understanding that we are all in need of one another to survive.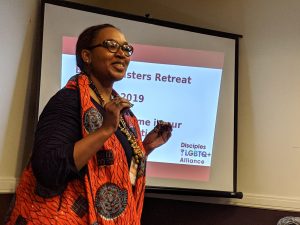 This was my third appearance at the Black Ministers Retreat and it was by far the safest. Many spaces do not allow you to bring your whole self into them; many of us have come to master the art of leaving portions of ourselves in the parking lot or in the vestibule. Yet, this retreat's fabric and DNA allowed for an atmosphere of authenticity, vulnerability, challenge, and above all: Safety!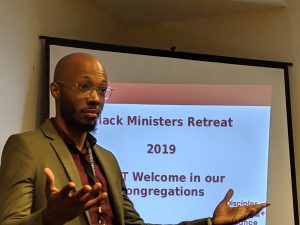 Several leaders, both clergy and lay, spoke about the need for the black church to be more inclusive of the LGBTQ+ experiences throughout the duration of the retreat. These conversations were not quarantined to simply two 1.5 hour workshops, but were intricate in the breadth of plenary sessions, worship services, and other gatherings. Feeling safe amongst your people is a gift that many are not privileged to receive. Yet, in Nashville, it was a gift I was happily surprised to find meet me at the entrance.
We made large strides in bringing up the conversation, we took great care in being delicate with the stories of our neighbors, and now it is time we take it a step further and message the gospel of inclusivity within the temples of our sanctuaries. It will take time, but what I've learned is that the people are ready; they are ready and willing vessels.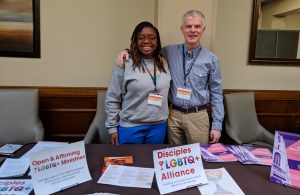 I Need You to Survive
– Hezekiah Walker
I need you, you need me.
We're all a part of God's body.
Stand with me, agree with me.
We're all a part of God's body.
It is God's will, that every need be supplied.
You are important to me, I need you to survive.
I pray for you, You pray for me.
I love you, I need you to survive.
I won't harm you with words from my mouth.
I love you, I need you to survive.