When:
2020-06-30T00:00:00-04:00
2020-07-01T00:00:00-04:00
Where:
https://www.giveoutday.org/disciplesallianceq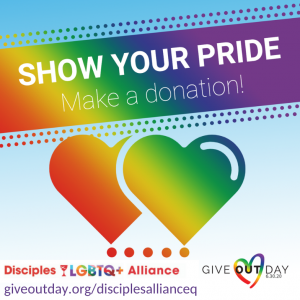 Alongside LGBTQ+ organizations across the country, AllianceQ seeks to raise funds to sustain and expand our work on GiveOut Day 2020. Will you give above and beyond your membership? Will you give so AllianceQ can deepen its work at the intersection of our many identities, especially for Black LGBTQ+ lives? 
A gift can be made anytime during the month of June
 with a special emphasis on fundraising on June 30. 
Click here to participate and give.
 Who in your family, church, neighborhood or group of friends can you invite to give to AllianceQ today?
Make a gift anytime during Pride Month. Thank you for your support.